Oh, Naughty Night by Leslie Kelly: Lulu Vandenberg has had enough of being alone. Between grad school, interning and now a new job, she needed some "satisfaction." Her last relationship really wasn't much of anything, at least not to her ex… so maybe she was protecting herself when she masked up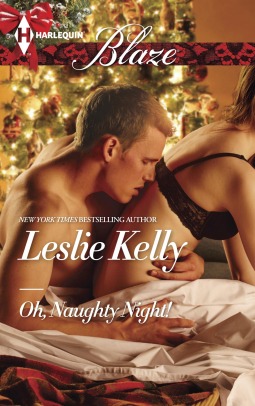 to go to a Halloween party. A one-night stand with no complications really wasn't that bad, right? All she knows is that she is in serious need. Chaz Browning just got back from an overseas trip that was hairy at times to say the least. Why he decided to come out to the bar on Halloween the day he got back, who knows but then he sees this girl, woman really, and it no longer matters. All he knows is that he needs her and needs her badly. After a complicated trip home she flees before he can learn who she is or how to find her again but that doesn't stop her from being in his head.
Chaz and Lulu knew each other as children and as they get to know each other as adults they begin to realize that perhaps things aren't as complicated as they used to be. However when the witching hour reaches them at thanksgiving things change and the past comes back to haunt them will it be the end of a beautiful friendship? Or the beginning of the future?
Ms. Kelly has sent her readers into the heat with this one. The perfect blend of romance and lust are tangled with the past and the present, family relationships and friendships. Life is never uncomplicated that is for sure but sometimes we make up these situations in our heads that fight with our hearts and in this story Ms. Kelly makes the reader realizes how silly these can be. This is a great story with passion and complications that make it hard to put down and easy to read.
Book Info:

Published October 21st 2014 by Harlequin Blaze Series #820 Hot for the holidays! Every Halloween party has its share of eye candy, and journalist Chaz Browning has just spotted a treat he can't resist—a deliciously wicked witch with sparkly red hair and deep, dark eyes that promise all kinds of sexy tricks. She wants no names. No strings. Just a night of lust-filled magic. The witch's mask may hide her face, but Lulu Vandenberg knows exactly who Chaz is. They spent most of their childhoods tormenting each other. So the moment Chaz touches her and everything turns to lust, Lulu knows she can never reveal her identity. But desire has a memory of its own, and Chaz has vowed to find his fantasy woman before the holidays end…