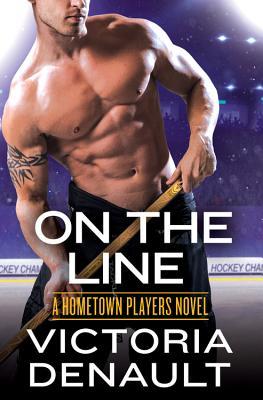 On the Line by Victoria Denault: On the Line is the fifth addition to Victoria Denault's wonderful contemporary sports series – Hometown Players – and it is another winner. We meet both Avery Westwood and Stephanie Deveau in the previous books, but it is not necessary to read them before starting On the Line. Of course, the whole series is great, so you cannot lose if you decide to pick them up as well.
Avery Westwood is the best player in the NHL and also the most straight-laced. His good boy image is his number one priority, because his manager father has made him believe his reputation is just as important – if not more – than his ability to play hockey. Avery is not a womanizer, chooses his friendships carefully and is extremely cautious in everything he says and does. His self-control has paid off, because he has lucrative sponsorships and respect from the public. When he turns into a free agent and has his pick of hockey teams, he surprisingly chooses the worst team in the league, the San Diego Saints.
What no one knows and what Avery's unwilling to admit is that his decision was heavily influenced by one of San Diego's newest residents, Stephanie Deveau. Avery has known Stephanie for a few years through her brother who was his former teammate. He and Stephanie formed a comfortable friendship although both have always been attracted to the other. Avery is now interested in moving past platonic and pursuing a romantic relationship with her. Stephanie is crazy attracted to him but knows how uptight he is about his reputation, and she has a past that would be exposed if they were publicly a couple. A past that wouldn't fit with his good boy image. Stephanie was a runaway at sixteen who became addicted to painkillers. She overdosed, went to rehab and is now sober, but she doesn't share her past with anyone and is especially leery of confiding in Avery, who is often judgmental.
Their friendship grows after his move to San Diego when he conveniently moves in next door to Stephanie. They cannot deny their attraction and soon find themselves as friends and lovers but grappling with much stronger feelins. Avery still has his father's voice in his ear and is hesitant to go public with a relationship. Stephanie is falling hard for Avery but very scared to reveal her skeletons. Both have a lot to lose if they fall in love, and both are afraid to take the risk.
Avery and Stephanie are a charming couple, and it is nice to read a romance that starts as a true friendship before developing into more. Their chemistry was electric and Ms. Denault built the sexual tension perfectly. My only complaint with the story is that I feel like Stephanie's addiction and sobriety was handled clumsily, and it distracted me. She still drinks alcohol and even drank to excess in the story. She explains that she still drinks because she was addicted to narcotics and not alcohol, but many do not consider this sober. I started worrying about Stephanie rather than concentrating on her and Avery's romance. Many readers will not feel this way or have any reaction to this party of the story, which is why I consider it a small miss in an otherwise sweet and sexy hit.
Book Info:

 12/6/16 | Forever Yours | Hometown Players #5
He had total control of his game–until she changed all the rules . . .
As one of the best players in the NHL and the "golden boy" of the league, Avery Westwood knows he has to keep his cool–on and off the ice. His whole life is a carefully constructed image of perfection for the media and his brand sponsors. Of course, that means he can never let his true feelings show. But when it comes to the sexy sister of his former teammate, Avery might be willing to make an exception . . . even if it means breaking all his own rules.
As far as Stephanie Deveau is concerned, having a thing for Avery is the equivalent of psychological napalm. Très bad idea. Then he moves in next door, all sexy smiles and a deliciously hot body that she can't resist. Something's happening between them–it's intense, a little (a lot) out of control, and real. Only Avery doesn't know everything about Stephanie's past. And the one exception to his rule might just be the one girl who could destroy his career.