In One and Only (Bridesmaids Behaving Badly #1) by Jenny Holiday, Jane Denning has had just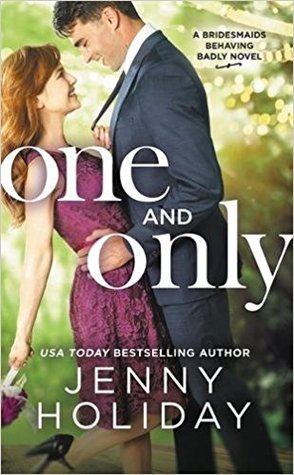 about enough of being a bridesmaid, especially with the bride acting like a bridezilla. So, she's decided the only way to get out of her duties is to volunteer to babysit the groom's brother – the extremely hot and totally off-limits Cameron MacKinnon. However, Jane never realized how much fun being around Cameron would be, even though she's been warned he's a total troublemaker. Will Cameron give Jane a chance, or will Cameron break Jane's heart because he doesn't want a relationship?
"You need to meet his plane, take him to Jay's, and make sure he doesn't do anything crazy. Jay will be home as soon as he can after work, and then you can leave for the evening and we'll figure out the rest of schedule from there."
"Got it."
Elise reached out and squeezed her hand. "Seriously. Making sure Cameron doesn't ruin my wedding is the best present you could give me."
What a compelling and captivating start to this series Ms. Holiday has delivered in this first book of her Bridesmaids Behaving Badly series where the main characters are total opposites that have absolute fun together, as Cameron pushes Jane out of her comfort zone; the dialogue was compelling due to their growing relationship and their back stories; and the storyline was fast-paced and had me loving that Jane gave Cameron a chance, despite the fact that he's totally not her type and everyone believes he's the ultimate bad boy that causes trouble everywhere he goes.
The way this story started had me sympathizing with the heroine, as her friend is a total bridezilla that expects her bridesmaids to do everything at the time she wants it done, and I could understand why the heroine volunteers for babysitting duty as the bride is getting to be a bit too much to deal with. Will things go back to normal once the wedding is over? However, it was from the moment the hero and heroine met that had me smiling for the first time while reading this story, as Cameron is hoping for a bit of fun and having a babysitter isn't conducive to that, especially since Jane isn't his type.
"Jay lives downtown. You don't need a car."
"And yet I've rented one."
"He lives right off the subway," she went on, apparently bent on ignoring him. "It will be impossible to park near his building."
"Look Jane. I've been driving around the desert in a G Wagon for the past five months. Cruising along a paved road behind the wheel of a good old North American hot rod? I've been dreaming of that." He raised his eyebrows. "Among other things."
Both the main characters were incredible and I loved how Cameron convinces Jane to step out of her comfort zone and do some truly fun things that she wouldn't normally do. Will the heroine be able to handle the activities they decide to do, considering she's not the adventurous type? Moreover, the heroine is resilient and courageous in being able to handle Cameron and I liked that she saw past the bad boy façade to the fantastic guy that he is. Then again, he's been through so much and it's understandable why everyone thinks he's trouble after all that he's done in the past. But, it seemed to me, he only acts the way he does because he has major abandonment issues that make him willing to stand up for those that deserve his loyalty and friendship, which is proven by what he did for one of his fellow soldiers. I also liked the tight friendship Jane shares with her three friends and that she was willing to be the one to keep Cameron out of trouble. Then again, it gives her an excuse to escape from her friend that's turned into a complete bridezilla. Honestly, I was hoping for a little bit of fireworks or waterworks in the way one of the bridesmaids told the soon-to-be bride enough was enough and possibly make her cry.
While Cameron, he's been through a lot and it's understandable why he has abandonment issues with how it was for him growing up and feeling like he was a disappointment. However, it's made him the man he is now; the one determined to stand up for what's right and not caring about the consequences. I also liked how determined he was to cross things off his return-to-civilian-life list, even if he did have to have a babysitter that didn't agree with everything he wanted to do but took a walk on the wild side anyway in order to help one of her best friends. Yet, what I liked most of all about the hero is that he gave Jane a chance, despite the fact that she isn't his type.
Overall, Ms. Holiday has delivered a very entertaining and well-crafted read in this book where opposites attract; the chemistry between these two was intense and makes for a wonderful and hot romance; and the ending had me sympathizing with the heroine because of what the hero does, but had me loving the lengths Cameron went to in order to win Jane back. However, it was the last chapter that wrapped this story up perfectly, as Jane does her duty as a bridesmaid wonderfully and managed to get her own guy at the same time; a guy that proved there's more to him than his past. I would recommend One and Only by Jenny Holiday, if you enjoy the opposites attract trope or books by authors Jennifer Dawson, Samantha Chase, Erin Nicholas and Casey Griffin.

Book Info:

Publication: February 27th, 2018 | Forever | Bridesmaid Behaving Badly #1
In this laugh-out-loud romantic comedy, USA Today bestselling author Jenny Holiday proves that when opposites attract, sparks fly.
Miss Responsibility meets Mr. Reckless
With her bridezilla friend on a DIY project rampage, bridesmaid Jane Denning will do anything to escape–even if it means babysitting the groom's troublemaker brother before the wedding. It should be a piece of cake, except the "cake" is a sarcastic former soldier who is 100% wicked hotness and absolutely off-limits.
Cameron MacKinnon is ready to let loose after returning from his deployment. But first he'll have to sweet talk the ultra-responsible Jane into taking a walk on the wild side. Turns out, riling her up is the best time he's had in years. But what happens when the fun and games start to turn into something real?