One Hot December is the third book in the Men At Work trilogy by Tiffany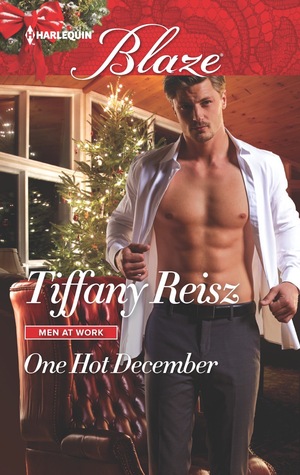 Reisz, a lighthearted, funny and super sexy series set in the in the idyllic forested locale surrounding Mount Hood, Oregon. I've thoroughly enjoyed each book in the standalone series that has loosely connected characters but can be read in any order. This story is a second chance romance with a Christmas and Hanukkah theme and definitely belongs on your holiday bookshelf.
Veronica 'Flash' Redding is a welder extraordinaire, who uses her artistic talents to create masterpieces of metal sculptures alongside her day to day job in construction. She and her boss, wealthy businessman Ian Asher shared a passionate night together a few months earlier when their attraction to each other and a handful of drinks got the better of them. But immediately after Ian backed off and made it clear to Flash that a relationship and repeat of their steamy night together was not in the cards. Flash took it all in stride, not giving away the hurt she felt at his declaration and continuing to do her job and do it well. But the time has come for her to move on, and she's given her notice. She's got a new job with Clover (heroine of book 2 of the series, Her Naughty Holiday) and she's looking forward to being able to spend more time on her art. Ian is sorry to see her leaving his company, but not that sorry – because now that they aren't going to be working together he's hoping he can convince her to give him a second chance after blowing it with her the first time. Convincing her to come up to his newly purchased chalet to use her welding skills on a dilapidated iron grating over the fireplace is really just an excuse to get her back in his arms again. Flash isn't so foolish as to pass up the opportunity for great sex with Ian, since the first time around made it clear that they had some compatible kinks in the bedroom. But this time she's determined to keep her heart out of the equation. Can Ian convince her to let him into her heart again?
What fun! I loved seeing a woman in a non-typical role, and Flash definitely fits with her brash demeanor, her tattoos and punk hair, and her job as a welder. She's quite adept at working around the misogyny she encounters because of her job, and the guys she works with have learned to have her back and trust her judgement. She may not always be ultra feminine in appearance but it doesn't mean that she doesn't have a soft heart, and Ian hurt her deeply when he rejected the possibility of a relationship between them after their startlingly erotic first night together. She hides that hurt with a snarky exterior but one Ian is capable of seeing behind. I appreciated that once Flash quit her job and questioned Ian about why he dumped her so abruptly, he came clean about the reasons and didn't let it be a sore spot that lingered through the story. (Nothing annoys me more than a misunderstanding or secret that can be easily cleared up in one conversation!). I also thought there was an interesting dynamic in their sexual relationship that you don't often see in a Harlequin romance, namely a soft BDSM theme with Ian being very dominant in the bedroom and Flash happily submissive, a role not expected based on her external personality. Since Ms. Reisz is well known outside of this series for her intense BDSM novels, it's not surprising that she snuck in a little nod here. But it's definitely not going to put any Blaze readers off. Rather it just adds a little bit of kink to what is already a steamy story.
The conflict in this novel results mostly from the fact that Ian and Flash are such opposites in upbringing, temperament and society status. Ian comes from a very wealthy background, and Flash is definitely not the type of woman his father expects him to date and marry. Flash, while confident on the outside, harbors those feelings of inadequacy that keep her thinking she doesn't belong in Ian's world, even as he tries to convince her otherwise. Eventually though they make their way through to a lovely happy ending. Ian's Jewish background features prominently as Flash helps him embrace his roots, and I really enjoyed seeing a holiday romance that featured not just the Christmas holidays. In the end, this is another wonderful sexy and fun romance with delightful banter and steamy scenes that will delight Tiffany Reisz and Harlequin Blaze fans alike.

Book Info:

Publication: Nov 22, 2016 | Harlequin Blaze | Men at Work #3
Hard as steel…and hotter still!
Never mess with a woman who carries a blowtorch in her backpack. Welder and artist Veronica "Flash" Redding's playful sense of evil sometimes gets the better of her. Like when her insanely handsome, wealthy, suited-up boss gave her the most sensuously wicked night of her life…then dumped her. Yep, revenge is a dish best served hot.
Only Ian Asher isn't quite letting Flash get away quite so easily. He's not ready to forget the intensity between them. The searing heat when they touch. And the deliciously demanding control Ian wields in the bedroom. Now he has only the holidays to convince Flash that they belong together…and that even the most exquisite, broken things can be welded back together.