One Hot Summer by Kat French: Alice loves Borne Manor; the stately home complete with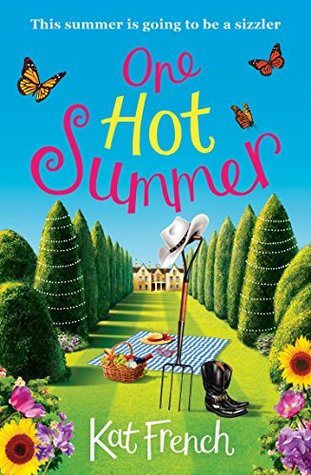 gardens, treehouse, boathouse, and four tenant cottages captured her heart from the moment she saw it. Now, she's desperate to find a way to keep her beloved home after kicking out her cheating husband. Robinson badly needs some time away from everything while he recovers from the horror of finding his wife with another man. He's walked away from her, his manager, his fame, and music.
Alice decides to rent out her home as a way to bring in money while she considers what comes next for her. With some help from her best friend and tenant, they renovate the old Airstream so Alice can still live on the grounds. Robinson had no desire to take his break from his life and the world in the English countryside, but it's also one of the last places anyone would expect to find him.
"You live in an Airstream."
Alice looked at him steadily, taken aback by his bluntness. "Yes, I do."
His face had confusion written all over it. "You moved out of that huge house into a van in your own garden?"
While renting the manor solves problems for both of them, they don't exactly get off on the right foot. Over time and with continued interactions, they come to realize that they have quite a bit in common. Both are soured on relationships and it didn't help that they are clearly attracted to each other.
With the summer stretching in front of them, they embark on a holiday fling as a distraction from their respective problems. Their once pointed barbs turn into actual conversations. Both know that the summer will eventually end and they have to consider how to move on and put their own lives back together once that happens.
"It's turned out to be a more life-changing summer than I'd bargained on, too."
"Then I guess you could say we're even," he said softly. "You fixed me, and I fixed you." He hi-fived her. "Good job, partner."
One Hot Summer is fun, quirky, and a good book for the summer. Kat French will delight readers with Alice's quirky personality and Robinson's charm and protectiveness. Ms. French keeps you entertained with a cast of colorful and eccentric characters. Fans of Kimberly Lang and LuAnn McLane will enjoy One Hot Summer.
Book Info:

Publication: June 2nd 2016 | Avon |
Being married to a celebrity isn't all it's cracked up to be, especially when that celebrity has a very public affair with his co-star…
Alice McBride is determined that the one thing she won't lose in her marriage breakup is Borne Manor, her beloved home, but she gets more than she bargained for when she rents it out for the summer and a sexy cowboy comes to stay.
Country music star Robinson Duff has had his own share of heartbreak and needs somewhere quiet to hide out for the summer. Neither Alice nor Robinson are in any position for romance; the timing is terrible and they're both rebounding like out of control frisbees.
Can a holiday romance help mend their broken hearts. Or will it just make things even worse when the long hot summer comes to its inevitable end?