One More Shot (A Hometown Players novel #1) by Victoria Denault: Jordan and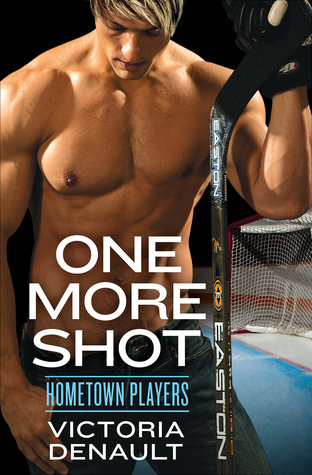 Jessie have been best friends since they were in third grade and Jessie and her sisters, orphaned, came to live with their unloving grandmother. Brought into Jordan's family as unofficial members, Jessie and Jordan were together through everything until it all went awry when they were eighteen. Finally taking that final step from best friend to relationship, it fell apart in misguided assumptions from naive teenagers.
"But then I'd turned around in that church parking lot and my eyes locked with hers and all the anger, betrayal and frustration that's consumed me was replaced by one thought: God, she's beautiful."
After having not seen each other or speaking for six years, they meet once again at Jessie's grandmother's funeral. From there, realizing she lives in Seattle, too, he hires her as his physical therapist, and she can't exactly say no since he's the enormously famous and influential hockey player.
Jordan refuses to let any misunderstanding happen between them this time and begins to pursue Jessie, even if it's just for friendship, no matter what it takes.
I enjoyed One More Shot a lot, but it also frustrated me a lot, too. It wasn't a strong enough conflict, though, more a misunderstanding and then stubbornness keeping them apart. If only Jordan and especially Jessie had accepted they were young and made stupid mistakes six years ago, they could have had a happy rather than angry and angsty reunion.
I did quite enjoy the community Denault created with the two families, though. They were protective, meddling, and totally rooting for the pair's happiness. Plus she sets up cute romances between the other siblings and friends that I'm definitely going to pick up. Sports stories are a favorite of mine, and I recommend any reader who loves a good athlete pick up One More Shot.
Book Info:

Published: June 2, 2015 | Forever Yours | A Hometown Players novel #1
They say you only get one shot at making your dreams come true.
Jordan is determined to take two.
Drafted by the NHL at eighteen, Jordan Garrison was headed for fame, and there was only one person he wanted to share it with—Jessie Caplan. He was crazy in love with her, and had finally told her so. They shared an amazing night . . . and then everything fell apart.
Jessie tries not to think about the night she gave herself to Jordan—or how he broke her heart. She tries not to think about it, but she does. Especially now, when she's staring into his sky-blue eyes for the first time in six years. After so much time and torment, she can't tell if she loves him or hates him. But Jordan has learned enough to know a connection like theirs is rare. He was lucky to find Jessie once. No way will he lose her again.