In One Night That Changed Her Life by Emily Forbes, having watched her mother suffer from a terrible medical condition and in the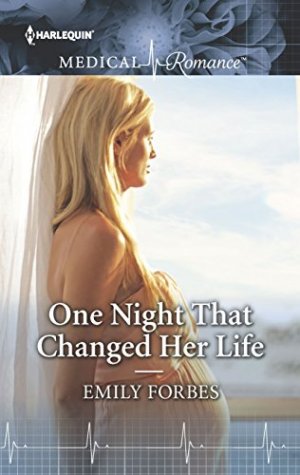 end lose her life, midwife Brighde Campbell is determined to go through life having one-night stands with men she'll never have to see again. However, the moment she meets doctor Xavier Campbell, her life irrevocably changes when she ends up pregnant. But fear of knowing any children she has could suffer the same fate as her mother has her running scared and determined to make decisions that she may end up regretting. Will Xavier be able to help her overcome her fear, or will she lose the one man that has turned her life around for the better?
"I don't see the point in playing games. Life is short; I tend to live my life by my rules. So, why didn't you go back to Scotland?"
She looked as if she'd have him on a place right then and there if it was up to her. "I'm Melbourne born and bred. I've come home."
"So you don't need me to show you around Melbourne, then."
"No." He laughed, trying to ease the tension he could feel emanating from her. She was wound up tight. "Guilty as charged. But I warn you, I will try again. I'd like to have dinner with you. Just dinner; we won't call it a date. No expectations, no strings."
This story had such a promising start, but in the end, I found it hard to choose whether I was going to give it 3.5 or 4 Stars. Because I really enjoyed the hero, the dialogue and the intense chemistry between this couple, but I found the heroine to be extremely selfish at times when it came to the decision she had to make in keeping the baby or not. How could she decide when she didn't know what her own future held, so what made her think any children she'd have would end up suffering like her mother? The way this story started had me concerned for the heroine, because of her brother's decision to break the pact they made years ago, and the news she learns that has her happy for her brother but still determined to go through life without ever knowing the truth of her own fate. However, it was from the moment the hero and heroine met that made this story a real page turner for me, as she's determined to get him to help her forget the choice she's made, which may have an impact on the rest of her life.
As for the dialogue, it was riveting and tugged at my heartstrings due to the emotional back story of the heroine and all this couple go through on their journey to happy ever after. Such as the heroine's reaction to being pregnant and what she wants to do; whether the hero can abide by the heroine's wishes if things don't work out like he hopes; and whether the heroine can cope with what happens when it comes to her pregnancy. Moreover, I did like the heroine, but like I said — at times — I felt she was selfish. Yet, at the same time, I could understand her reasons for being scared, especially with all she's been through in the past and wondering whether she'll share the same fate as her mother. Then there's the way she's resilient and courageous by taking a chance on the hero and knowing that he'll be there for her through thick and thin, which is proven by him doing everything he could to learn about the disease her mother suffered from, so he could see things from her point-of-view.
She didn't think she would ever get tired of hearing that. "I find it hard to believe I can get good news and to have two lots in one day, it's almost too much."
"Every day can be a good day if we are together."
"I can't believe I almost blew me one chance at my own happily ever after."
While the hero, I could understand his need to fight the heroine to change her mind, even though Brighde had every right to follow through on the decision she was so adamant of making. Then again, how could Brighde be so willing to do what she was going to do when she didn't know whether she'd be all right, let alone their child? Yet, in saying that, I liked how supportive the hero was of the heroine once he discovered things about her mother's disease. Yet, what I liked most of all about the hero is how he encouraged the heroine to face her fear and discover the truth about her future once and for all.
Overall, Ms. Forbes has penned a good read in this book where the chemistry between this couple was strong and instant from the moment met. This is also a book that made me want to cry for all the heroine's been through in her past and all this couple go through on their journey to happy ever after, yet made me smile because of the hero's determination to win the heroine's heart and show her that happy ever after is worth fighting for. The way this story ended wrapped it up brilliantly, as Brighde realized that she couldn't live without Xavier, especially when she receives news that made her want to fight for their happy ever after. However, it was the epilogue which added that extra something special to this story, because the hero and heroine have come so far in their relationship and deserve all the happiness they've found. I would recommend The Night that Changed her Life by Emily Forbes, if you enjoy Medical Romances or books by authors Caroline Anderson, Tina Beckett and Amalie Berlin.

Book Info:

Publication: September 1st, 2017 | Harlequin Medical |
The midwife's pregnancy shock!
From the moment she sees Dr Xavier O'Donnell, midwife Brighde Campbell knows how the night will end. In the gorgeous obstetrician's arms she can forget the closely guarded reason she avoids commitment — but then she discovers she's pregnant…
Finding out he's going to be a father both shocks and delights Xavier, but Brighde seems intent on shutting him out. Her painful secret will test their hearts — can Xavier convince Brighde that no matter what the future holds they will face it together?