One Night with a Billionaire by Jessica Clare: Kylie is beautifully curvy makeup artist who is trying to make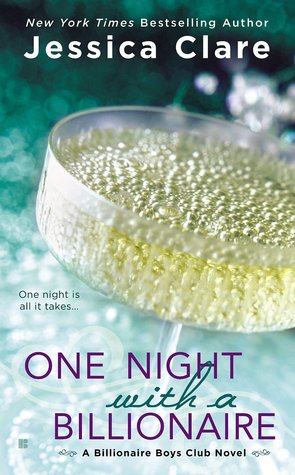 ends meet in order to keep her grandma in a nursing home. Kylie has no family left apart from her grandma who always made her feel like a burden and constantly belittled her for having a more womanly shape. She's happy to land a job to do Daphne's makeup while one tour for the money alone.
Cade is a sexy, smart, and generous billionaire who has been in love with the famous star Daphne since they were broke as kids. He despairs that Daphne is not ready for them to finally be in a relationship. He plans to see Daphne one more time and ends up running into the vivacious Kylie.
Kylie and Cade are immediately attracted to each other and are surprised to learn of each other's connection to Daphne. Kylie hates how Daphne is acting and decides to help Cade get back to his hotel which leads to a night neither had planned for.
"Keycard?"
"In my front pocket." He gave her an interested look. "Don't suppose I could convince you to reach in and get it for me?" Good lord, was Cade flirting with her? The man must have been truly plastered. "That's very sweet," she told him. "But get your own card."
"Can't blame a man for trying," he murmured.
"You're drunk," she told him. "You wouldn't hit on me sober."
Kylie has some major body hang-ups and her actions are driven by her need to be financially independent. They have amazing chemistry, but Cade is off limits to her. In order to keep her job, Cade can only be a one-night stand. Cade, however, doesn't agree and is very persistent in his pursuit. Kylie struggles with what she believes she can have versus what her heart and body desperately desire.
Kylie: It's not a question of want. It's a question of practicality. Like, is it practical for me to date the man that my rich and famous boss wants? Risk my job? I consulted my Magic 8 Ball this morning and all signs point to no.
Cade: Those things are liars. Mine told me that you would say yes.
One Night with a Billionaire is a sexy opposites attract romance. Jessica Clare provides a great and very relatable heroine in Kylie. Ms. Clare did a great job advancing their relationship with fun and flirty text messages. One Night with a Billionaire can be read as a standalone book. Fans of Chanel Cleeton will enjoy One Night with a Billionaire.
Book Info:

Publication: June 2nd 2015 | Berkley | Billionaire Boys Club #6
The New York Times bestselling author of The Wrong Billionaire's Bed delivers a delicious new novel about a secret society of six men who are incredibly wealthy—but not always so successful when it comes to love…
Kylie may be a makeup artist to the stars, but she knows what it feels like to be overshadowed. Especially by her famous boss, the pop star Daphne. That's why she's stunned—and delighted—when one night at a party, she attracts the attention of a gorgeous stranger. But when Daphne decides she wants the handsome billionaire for herself, Cade Archer is suddenly off-limits for Kylie…
Cade has known Daphne for years, and always wondered if she might be the right woman for him—even though she never gave him the time of day. But one sizzling night with Kylie has changed everything. So why is she suddenly avoiding him? Fortunately Cade is determined to get what he wants, and he'll do anything to show Kylie she can get everything she wants too…