In One Scandalous Kiss (Accidental Heirs #1)by Christy Carlyle, Saving her father's bookstore from financial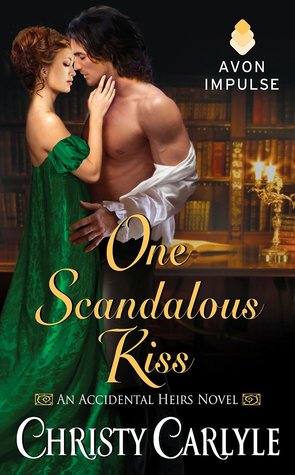 ruin has weighed heavily upon Jessamin Wright since she inherited it. So when she is asked by a member of the aristocracy to play a prank on Viscount Grimsby by kissing him in public for one hundred pounds, Jess can hardly say no. But that one explosive kiss sets in motion a number of changes in her life, beginning with a connection to a man she has no right dreaming she may have a future with.
'Jess never dreamed a kiss could be so potent, never imagined a man's gaze could set her on fire. No man had ever looked at her with the blatant yearning she saw in Lord Grimsby's eyes.'
To say Lucius Crawford is shocked when beautiful Jessamin walks up and kisses him senseless is an understatement. And he cannot get her out of his mind. His attention should be on finding a suitable match with enough funds to help repair his family's neglected estate. But fate draws Lucius and Jess together once again when she unknowingly visits his home for a party. And it's clear their attraction has not faded. He may be tired of his duties overseeing Hartwell but can he justify his selfish need to keep the beauty in his life?
'He wanted her, but it was more than that. He needed her. She'd electrified his life, animating a heart he'd thought rusty and long past repair.'
One Scandalous Kiss was a historical romance filled with longing, and which finds our hero and heroine on the cusp of taking charge of their lives instead of simply enduring their due diligence.
Set in 1890, this story was a Victorian era romance that brought into it the changes appearing in England at the time. My favorite difference between this and a Regency was that Jessamin was a suffragette. It was so nice to see a woman standing up for herself and her rights in an intelligent manner, with the men around her actually listening to what she had to say. Especially Lucius. He was not a typical aristo. He was forward-thinking, believing in equality between men and women as well as between social classes. Loved that!
Jess and Lucius had a sweet romance, but it was still full of desire and sparks of chemistry. We got a good sense of that heat when she kissed him in front of his peers. That first scene was extremely emotional and I thought it set the tone for their relationship. Lucius and Jess may have been a mismatched couple, with him being a viscount and she a shop owner, but I loved that it didn't matter to them. Only to those around them.
If you enjoy sweeping romances, then I think you'll like One Scandalous Kiss. With Lucius, the brooding, emotionally repressed hero and Jessamin, the strong heroine who never believed in true love for herself, how could it be anything but interesting?
Book Info:

Publication: Published September 8th 2015 | by Avon Impulse | Accidental Heirs #1
When a scheming marquess' daughter offers her one hundred pounds to publicly kiss a nobleman, a desperate Jessamin Wright agrees. She believes the money will save her failing bookstore and finally free her from her father's debts. But when Jess bursts into an aristocratic party and shocks the entire ton, she never expects to enjoy the outrageous embrace she shares with a grim viscount.
Lucius Crawford, Viscount Grimsby, has never met, or kissed, anyone like the beautiful suffragette who unsettles him with a single touch. He has always strived for control and avoided passion at all costs. Lucius is determined to protect his title and restore the estate he's unexpectedly inherited, but Jess' appearance in his life poses a threat to his plans and his heart. After a country house party brings them together once more, neither can resist temptation, and both find that one scandalous kiss just isn't enough.