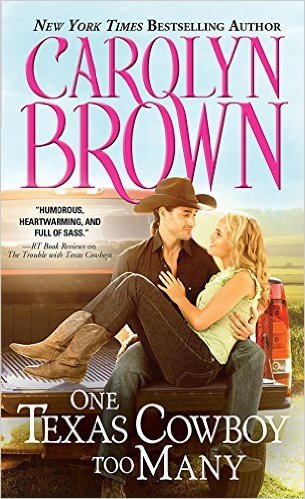 One Texas Cowboy Too Many (Burnt Boot, Texas #3) by Carolyn Brown is the third book in the Burnt Boot Series, and like the other books in this series, this one too can be read as a stand alone. Now I have read each and every one on the books in this series so far, and I have to say that each and every one is funny, sexy and sweet. This one happens to be the story of Leah and Rhett.
Leah Brennan is a member of the Brennan family. One of the feuding families of Burnt Boot. She is sweet, thoughtful, quiet, and nothing like her feuding kin. She would love nothing better than to see an end to the feud between the Brennans and the Gallaghers. Since she was in school she has always had a crush on Tanner Gallagher, but being a Brennan she knew that he was the untouchable, off-limits too the likes of her. But when Rhett O'Donnell rides into down on a steal horse, her crush on Tanner, her feelings for him seem to take a back seat and the only person she can see is Rhett.
Rhett wants nothing to do with the feud between the Brennans and the Gallaghers, but he wants to have something with the sweet, sexy Leah Brennan, who is innocent and unassuming. There is something about her that calls to his soul, makes him want to spend time with her, protect her and help her in any way that he can.
But when the feud takes a turn from the Pig Wars, to the Shit Wars, and Leah finds herself in the middle of Rhett and Tanner, both looking for her attention, she is beginning to wonder if she could have one cowboy too many on her hands.
What I really enjoyed about this story is that what started as a love triangle, soon turned into a strong bond between Rhett and Leah, with Tanner being kind of creepy stalkerish. It became clear that Tanner was trying to use Leah's crush on him to cause more harm to the Brennan family and he along with is cousin will do anything to break Leah and Rhett apart.
Now for those of you that have read the other books in this series, you will know that the Brennan-Gallagher Feud is worse than the Hatfields and the McCoys, and seriously, if you thought that the Pig Wars were funny, wait till you get a load of the Shit Wars! I mean this book should come with a warning: "Watch out for falling toilets!" In the end, Rhett and Leah get a HEA, it might seem a little quickly due to the turn of events, but for me, it just seemed that these two were a perfect match in every way.
I really enjoyed this story, I have enjoyed this entire series and I truly look forward to the next story in the Burnt Boot Series to see what other problems the Brennan and Gallagher families get into.

Book Info:

 March 1st 2016 | Sourcebooks Casablanca | Burnt Boot, Texas #3
For good girl Leah Brennan, the only thing worse than falling for the dark-eyed, tattooed Rhett O'Donnell would be falling for a member of the off-limits Gallagher clan—or maybe both.
All Leah wants is to please her grandmother and bring some peace to the feuding town of Burnt Boot. With Tanner Gallagher—her forbidden, childhood crush—flirting with her and sexy Rhett showing up wherever she goes, Leah soon realizes that this may not be as easy as it seems… Will love be enough to conquer her family's hundred-year-old feud with the Gallaghers?