One Touch More by Mandy Baxter: Tabitha should know better than to be attracted to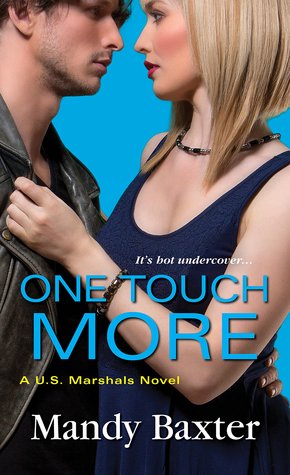 anyone associated with her ex, Joey. He's a drug dealer who's using her position at the hotel to get hotel rooms to sell his drugs out of, and he's threatening to turn her brother, who had helped him at one time, in to the cops. Still, when tattooed bad-boy Damien Evans walks into her hotel, Tabitha immediately feels an attraction towards him.
U.S. Marshal Parker Damien Evans doesn't even really know who he is anymore. He's spent so many years doing undercover work as Damien, he barely recognizes the part of him that's Parker. So much so that at times when his co-workers call him Parker, it takes him a minute to realize they're talking to him. Never before has he been attracted to a woman like he is to Tabitha. For the first time in a long time, he wanted someone to really know him as Parker, not as Damien.
For the first time in as long as he'd been a member of the Marshals Service, he didn't want to be Damien anymore. He wanted to be Parker Evans, and that was the name he wanted on Tabitha's lips.
When Tabitha finally feels safe with Damien, she admits what Joey has done. Even more, she reveals a connection to Joey's drug source. The Marshals have been trying to take down Gerald Lightfoot for years, and now they're closer than ever. But to catch him, Damien may need to put Tabitha and her brother Seth in danger.
I really liked the characters in this book. You can't help but feel for Tabitha because she's in a no-win situation. Either she let's Joey use the hotel to sell his drugs, or she risks losing her brother to prison. Also, she herself could face jail time if Joey ratted her out.
Damien struggles between doing what's right–admitting what Tabitha has done and what she knows–and figuring out a way to protect her from any possible repercussions. He also protects her from Joey's shady associates, all while trying to figure out which side of his personality he truly associates with.
There's no surprise as to who the bad guys are in this book–you're pretty much told from the beginning–but the build up to the showdown between the Marshals, Joey, and Lightfoot was well executed.
While this is the third book in the series, it can be read as a stand alone. Damien's character is actually introduced in book two of the series, but not having read it, I still had no problem following along with this story.
In One Touch More, Mandy Baxter has created a well-written book about struggling to do what's right and discovering who you truly are in the process. If you like your books with a little bit of suspense mixed in with your romance, you should consider giving this one a read.
Book Info:

Publication: October 27, 2015 | Zebra | U.S. Marshals #3
Strong, relentless, and lethal, he plays every angle to trap the worst criminals. But for the one woman he can't resist, he'll break all the rules…
For hotel manager Tabitha Martin, bad boys usually spell disaster. And her new guest promises just that, with his formidable build, tattooed biceps, and quiet take-no-mess attitude. Tabitha is already putting everything on the line to escape her vicious drug-dealing ex's control for good—but a single sizzling moment in "Damien Evans'" arms has her wanting all the trouble he can give…
He's been undercover too long and likes living dangerously too much. U.S. Marshal Parker Evans figures maybe that's why he doesn't immediately put Tabitha in custody. Sure, she's his one chance to finally take down a major drug ring. But every minute he protects this mostly innocent blonde leaves his heart all too vulnerable. And the cost of desire could be a deadly endgame…