One Week to the Wedding(Misty Point #1) by Olivia Miles is a book about second chances, it is a book about finding love when you least expect it. It is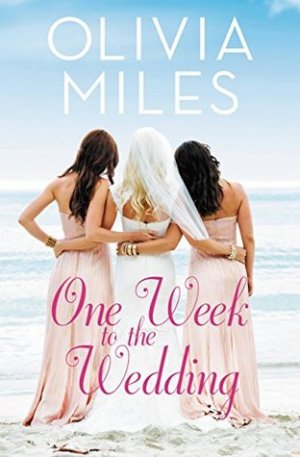 a book about forgiveness and family. This book took me through a array of emotions, laughter, tears, and in the end, my heart was light with the love between these friends, and families. This is the story of Kate and Alec.
Kate Davis has had her share of heartache, planning her own wedding only to be dumped and to find out that her fiance was cheating on her with her own sister. She is a wedding planner, and she wants to make sure that her very best friend has the best possible wedding that she could every wish for. Even if that means that her boss is hounding her ever step, that she is just looking for an excuse to fire her. On to of that her sister Charlotte keeps calling, OH and she has to keep her eyes on the best man and brother of the groom to make sure he plays nice. She did not expect it to be so hard to keep her hands to herself.
Alec came to Misty Point to try to convince his brother to come back to Boston, to come back to the family business that is failing miserably since he left. He knows that he should be happy for his brother, and in a way he is a little jealous as well, but he is all that their dad has left, and he can't make a decision to run away, or can he? The more time that he spends with Kate, her family, his brother and soon to be sister in law, the more Alec yearns for a life away from Boston and a family with Kate.
Charlotte knows that she made a lot of mistakes, sleeping with her sister's fiance, but there is more to the story than that. Now she has a little baby to consider, and all she wants is to come home and make things right with her sister. But how can she make Kate listen when she will not return a call or allow her to explain?
When ghosts from the past and misunderstandings threaten to throw Alec and Kate off course, Alec will need to pull out all the stops to make Kate understand and in the process, he may just be the one thing that helps Kate and Charlotte find their way back to each other.
It is an emotional ride for all the characters in this amazing story. Alec wants to do right by his dad, but he also wants the one thing that he never thought that he would be able to have, a life, love, and family. Kate is torn between missing her sister and feeling betrayed. I can't blame her for that, but once she hears the entire story she can finally put the past to rest and find forgiveness for her sister. Charlotte only wanted to be like Kate, and even though she made a big mistake, she owns it, and she wants to prove to her family and especially to her sister that she has changed. She is not the selfish little girl she once was.
Amazing characters and a wonderful HEA. I look forward to more in this series.

Book Info:

Publication: June 13th 2017 | Forever | Misty Point #1
In the vein of New York Times bestselling authors Susan Mallery, Robyn Carr, and Kristan Higgins, comes the first in a new women's fiction novel from Olivia Miles.
Sometimes the road to happily ever after takes a few wrong turns…
Kate Daniels couldn't be more excited to be planning her best friend's wedding…in theory. Lately, just thinking about gowns and centerpieces makes her want to hide under the covers with her dog and a good book –one that doesn't include a romantic plot, thank you very much. Maybe it's because her fiancé cheated. Or maybe it's because he cheated with her younger sister, Charlotte. Or maybe it's because her newfound reputation as jilted wedding planner isn't exactly doing wonders for her career.
Charlotte knows she messed up. Big time. But she also knows something Kate doesn't-something that might bring them close again, if her sister will ever take her calls. But as time passes and silence grows, Charlotte begins to realize she can't hide from her problems forever, and that sometimes the only place to run is home.
With the wedding only a week away, Kate expects a few surprises. But what she doesn't expect is to find herself believing…in the strength of family, and the possibility of finding love again.