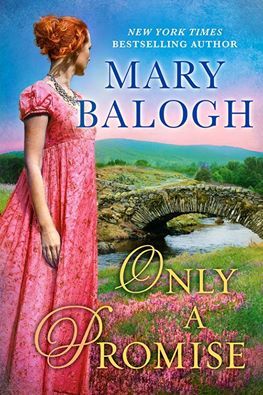 In Only a Promise (The Survivors' Club #5) by Mary Balogh, Chloe Muirhead has suffered setbacks both times she went to London during her Season in the ton. She's now given up hope of finding a suitable match and instead has come to stay as a companion with the Duke and Duchess of Worthingham, friends of her family. While there, Chloe meets their grandson, Ralph, whom she knows was gravely injured a few years ago in the war. She overhears him say he needs a wife but he has no emotional commitment to offer. Rather than face spinsterhood, Chloe offers Ralph a chance to marry for future heirs. But can she truly remain emotionally unattached to the brave, war-ravaged man?
`How could one suffer when there were no expectations? …Neither of them expected or even wanted love or romance or any of those finer sensibilities some people of a romantic disposition deemed necessary for a good marriage.'
Ralph Stockwood is one of seven survivors that formed a tight bond after coming home bandaged and broken after the war. The first few years after his return home were a nightmare, but he has hopefully turned over a new leaf. Knowing the responsibility of furthering the family name is directly on his shoulders, Ralph is repeatedly lectured by family on marrying soon. But is it fair to a young lady to live with such a emotionless and tortured person, just to beget an heir? Then Chloe offers Ralph the opportunity to fulfill his duty to his heritage without the entanglements of most marriages. Can it really be that simple? Or will he end up resenting giving up his freedom for a life of duty and drudgery?
"I am your husband. When you feel lonely or afraid or unhappy, it is to me you must come, Chloe. My arms are here for you, and my strength too for whatever it is worth. You will never be a burden to me."
Only a Promise was a touching Historical Romance that was actually a two-fer in regard to tropes: marriage of convenience AND wounded warrior. Obviously there was a lot to work with combining these two elements, and author Mary Balogh did not disappoint in the slightest.
This story may have started off with our protagonists Ralph and Chloe ignoring their emotions, which admittedly were fairly bleak and dark, but it turned into a story of hope and redemption. I'll admit that the marriage of convenience trope is not my ultimate favorite. I'm too much of a romantic to see someone get married for reasons other than love. However, for this story and these two characters, this trope worked perfectly. And the way their pasts were a bit interwoven, with Chloe's brother Graham having gone to school with Ralph, plus the heartbreak both she and Ralph had been through, made this novel a very intriguing one.
Neither Chloe nor Ralph thought true love was in the cards for them but they complemented each other quite well once they began to communicate. I loved that Chloe saw how tortured Ralph was with his survivor's guilt and over what he had seen and done in the war. She was a very nurturing, caring woman and was the best possible mate for him. I thought it was realistic that Ralph would prefer to be stoic, hiding his guilt, remorse and fears, instead of confronting those emotions. The same went for his feelings about Chloe. I enjoyed those glimpses of the charming, charismatic man he had been before the war, when he let himself relax around her. Those conversations definitely made me smile and empathize with how deeply scarred Ralph was.
Fans of Historical Romances with an intricate plot and complex, wonderfully flawed characters will have cause to celebrate with Only a Promise. And if you haven't read any of the other books in this series, fear not. This can certainly be read as a standalone.
Book Info:

 June 9th | by Signet | The Survivors' Club #5
The new Survivor's Club novel from the New York Times bestselling author.
The Survivors' Club: Six men and one woman, all wounded in the Napoleonic Wars, their friendship forged during their recovery at Penderris Hall in Cornwall. Now, for one of them, striking a most unusual bargain will change his life forever.…
Ralph Stockwood prides himself on being a leader, but when he convinced his friends to fight in the Napoleonic Wars, he never envisioned being the sole survivor. Racked with guilt over their deaths, Ralph must move on…and find a wife so as to secure an heir to his family's title and fortune.
Since her Seasons in London ended in disaster, Chloe Muirhead is resigned to spinsterhood. Driven by the need to escape her family, she takes refuge at the home of her mother's godmother, where she meets Ralph. He needs a wife. She wants a husband. So Chloe makes an outrageous suggestion: Strike a bargain and get married. One condition: Ralph has to promise that he will never take her back to London. But circumstances change. And to Ralph, it was only a promise.