In Only (Holton Woods #2) by HelenKay Dimon, Sebastian "Bast" Jameson has been keeping an eye on his friend Wade Royer's younger sister, Kyra, for quite a while. At first it was to ensure her safety from her thug of a father. But then Bast couldn't help but notice how gorgeous Kyra had become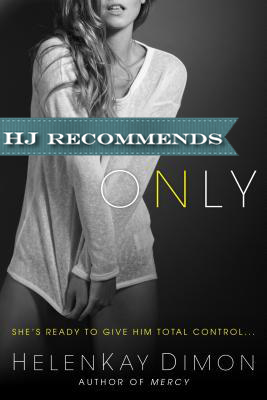 over the years. Their age difference of about a decade has put her in the off-limits category. Well, that and the fact that her brother could dismember him without batting an eyelash. Then Kyra makes it clear that she's interested in getting to know Bast very, very well. She's not impressed with his job as a high paid negotiator or with his reputation in the bedroom, thanks to his ex-wife's tell-all book. Kyra says she just wants whatever Bast is willing to give, and if that's sexy time with no commitment, then fine. But will Bast be the one to change the rules when he becomes attached to the sassy young woman?
'But what he felt for Kyra was not just lust or a drive for more sex. It started there and he'd wanted it to stay there, but the whole relationship spun out of his control and now he didn't know how to grab it back.'
Kyra Royer has her sights set on a sexy lawyer-type guy who fills out a suit like no other: Sebastian Jameson. She's willing to overlook how awkward it might become if they begin a relationship and it doesn't work out, where they have several friends in common. Bast's past sexual exploits are certainly not a deterrent, either. Kyra finally makes her play, hoping he will accept her invitation, taking a chance on the incredible chemistry they share. Her instincts prove to be spot-on, and she can't believe how explosive they are together. But Bast is hiding something from her while also keeping their relationship a secret from their friends. Will sex be enough for Kyra or will she push Bast for more than he might be able to give?
"One request."
He looked at her over his shoulder. "Yes?"
"When you finally get naked for me, wear the glasses."
His smile promised the scenario would be happening very soon. "They turn you on?"
"Everything about you does."
"Good to know." He winked at her and left.
What a wild ride of a romance novel! With a spunky, street smart heroine and a geek-chic hero, Only had a little bit of something to please everyone.
First, this is one of those rare instances where I would suggest reading book one, Mercy, before reading book two. The plot and character interaction will make much more sense if you do. Plus, we get to see Kyra and Bast through other character's eyes before going inside their heads for their own POV in this story.
I actually had a lot of fun with these characters and I found that I didn't mind the age difference between Bast and Kyra like I thought I might. Kyra was a lot more mature than her twenty-three years thanks to her upbringing. It was so satisfying to see her go toe-to-toe verbally with Bast, the big bad negotiator. That made their dialogue fiery and also showed how quick witted they were. Their physical scenes were extremely hot where they were always wound up, filled with emotion, even though Bast wanted to keep them strictly as friends with benefits. So didn't work out as he planned. 😉
As we learned more of Kyra and Bast's backgrounds, it is apparent they both had been put through the wringer emotionally at the hands of their fathers. I think once they had been together in a physical relationship for a bit, they had a connection, understanding each other's pain and frustration with family issues. And the secondary characters helped and/or hindered with that process, too. Jarrett, Becca, Wade, Elijah, and Natalie all reappear in this sequel, playing important roles in the plot.
HelenKay Dimon's Holton Woods series is only getting more exciting with each new installment. If you're looking for a nice blend of suspense and intense romance, definitely give this one a try.
Book Info:

Published October 7th 2014 by Berkley Trade | (Holton Woods #2)
He's a man who fixes difficult situations. She's the one thing he can't handle—and the one thing he can't resist…
ONLY
Sebastian Jameson negotiates for high-end clients who need problems taken care of quickly and discreetly. Accustomed to being in control, he's still reeling from his ex-wife's decision to write a tell-all about their private life, one that highlighted their bedroom activities. The fallout left Bast's love life in chaos, making him a magnet for women who thrive on risky fantasies, and a pariah to all others.
Kyra Royer knows all about Bast's reputation—and is intrigued enough to try to change him into a one-woman guy. But getting him into her bed will be a challenge. He's known her brother for years, and her brother, with his rough past and sniper abilities, is not a man you cross. Kyra knows Bast thinks she's off-limits, so she'll have to get creative to make him hers.
As Kyra turns up the heat, Bast struggles to resist the sexy young woman's considerable charms. But when Bast's job turns from tricky to deadly, keeping Kyra nearby might be the only way to keep her alive—even if it means getting closer than he ever intended…