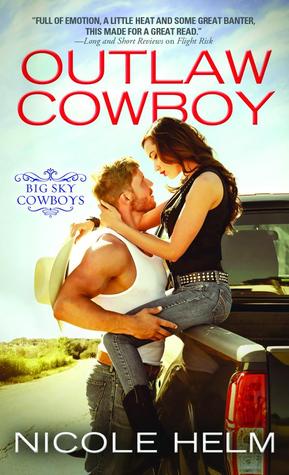 Outlaw Cowboy by Nicole Helm is book two in the Big Sky Cowboys Series and revolves around Caleb and Delia.
Caleb is trying to change his ways. He's trying to stay sober while taking care of the ranch and the last thing he needs is for Delia to come along and ruin his chances.
"It had been about five years since he'd had any interaction with Delia Rogers, and yet the emotions inside of him were as familiar as if she'd been by his side every day."
Delia is trouble. She orders Caleb around and basically blackmails him into letting her stay on his property. I'm not quite sure what kind of hero would put up with Delia and her blackmailing. It's not even about the blackmail, Delia just came across mean. Of course, her life hasn't been the greatest and she uses men to get by, but instead of coming across wounded, she came across as a bully. She's not a bad person just makes bad choices. She needs to get her sister away from their dad but it's not that easy when you're wanted by the police for a crime that you had nothing to do with. That's where Caleb comes in.
Caleb rescued Delia once upon a time after seeing the physical abuse her father put on her and took matters into his own hands. No one knows it was Caleb who assaulted her father and if he refuses to help her, she claims she will go to the cops and tell them everything. What a horrible thing to do to someone who saves you from a beating but this is how Delia comes across. Of course, she does become a little better towards the end of the book when she and Caleb's relationship becomes more intense. Being with Delia makes Caleb feel alive and makes him feel as though he's doing something right. Caleb is carrying around emotional baggage from his mother and he never thinks he's good enough or even a good person, but when he's with Delia, that's exactly how he comes across; good!
With this story, it's going to boil down to preferences. Every reader has their own preference on how they picture the hero and the heroine and for me, both characters missed the mark for me. The scenes are well-written, the characters are certainly well-developed, but I never connected with the characters. I urge to you read this book for yourself. Just because I didn't connect with the characters, doesn't mean you won't. If you enjoy wounded characters and a bad boy with heart, you should definitely check this book out.
Book Info:

May 3rd 2016 | Sourcebooks Casablanca | Big Sky Cowboys #2
Ever since his father's accident, Caleb Shaw vowed he'd mend his wild ways, and he means to keep his word. He's a changed man. A better man. And he knows he should want absolutely nothing to do with his crazy old life…or the maddening temptation that is Delia Rogers.
Because Delia? Is nothing but trouble.
Delia's been stealing her sisters away from their violent father ever since she was old enough to fight back. But now with the police on her trail and all her bridges burned, there's nowhere left to run but back into the arms of the one cowboy she knows she shouldn't need. Caleb has always been too good for her, no matter how bad he claimed to be. Yet when close quarters turn into something more, Delia and Caleb are forced to decide what really matters: mending their reputations or healing their wary hearts…