In Over Exposed (Salon Games #3) by Stephanie Julian, Greg is screenwriter trying to get his perspective back, what he's lost in LA. He is spending some time at his friend's yet to be opened resort to do this, alone except for Sabrina. Sabrina is an employee of Greg's friend,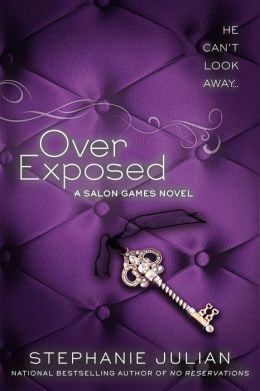 sent to help take care of Greg while he writes.
Neither of them is aware of the fire that burns inside for the other since their brief previous meeting. The immediate attraction has not dulled since then, and is difficult to hide. He's famous and quite a bit older than her. She doesn't want to make the same mistakes with men her mother did, nor does she want to risk her job for a man. But none of that matters when a snow storm traps them together at the resort. Their desire for each other is easy to feel flowing off the pages, and soon they can no longer hold back.
What will happen though when it's time to go back to reality? Sabrina is convinced Greg only wanted her because she was the only woman available. Greg is convinced he wants to spend a lot more time with Sabrina. Their worlds are very different, and as they spend more time together, will it ever be more than sex? Sabrina struggles to trust, she resists, and they both struggle to follow their hearts. Can they open up to each other and have more? Can their different worlds mesh?
Greg and Sabrina were easy to get to know and like separately, but more difficult to get to know as a couple. Most of the times they are together in Over Exposed it quickly turns explicitly sexual. That was great, they are very compatible sexually, but I was left wanting to see the relationship develop a lot deeper between them. There is a huge lack of communication between them and assumptions about what the other wants, which was a bit frustrating at times. This made me all the more interested to see how things would or would not work out between them.
There are some great secondary characters in Over Exposed from Sabrina's boss to Greg's assistant to musician Sebastian. They all play an integral role in Over Exposed, adding conflict and turmoil, and each of them has a story to be told lurking beneath the surface. The secondary characters helped to add a lot of dimension and draw me in to Over Exposed. They helped balance out the sexual relationship between Sabrina and Greg, and nicely round out the story, making it about much more than just Sabrina and Greg.
Over Exposed is fast paced and the scenes between Greg and Sabrina are explicit. Once you've read the book you will see how appropriate it and the series is titled!
I have not read the previous books in this series, and I would recommend reading this series in order to get a better understanding and feel for all of the characters.
I would recommend Over Exposed to romance readers who like their books sexy with lots of unique characters!
Book Info:

Published July 1st 2014 by Berkley Trade |  (Salon Games #3)
When the cameras are off, the real action begins.
Greg Hicks is a Hollywood power player. For years he's enjoyed the perks that come with being a top director and producer: the influence, the wealth…the women. But none of his many conquests have ever possessed the incredible sensuality of the young woman he once watched lose all inhibition in front of his camera.
Sabrina Rodriquez's life is far from a Hollywood dream. Refusing to make the same mistakes as her unlucky-in-love mother, she's focused on her first real job and avoiding all distractions, especially those of the male variety. Yet a man as compelling as Greg is difficult to ignore. And the desires he awakens are even harder to quench.
While a winter storm rages, a night at Haven Retreat leaves Sabrina's and Greg's temperatures rising. As Greg introduces Sabrina to the pleasures of voyeurism and exhibition, she unleashes his most decadent passions—and his creativity. But having Sabrina as a muse isn't enough. He wants her to take a starring role in his bed…and in his heart.