Owned by Cari Quinn and Taryn Elliott is the fifth and final book of the Oblivion Series. The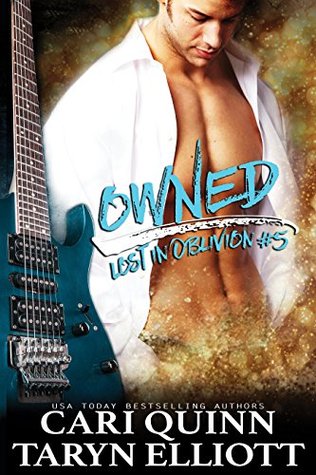 authors wrap the series up after many of the characters endure an emotional journey that leads them to their happily ever after. This book doesn't focus on one couple instead revolves around the band. The romance portion of the book is divided between two couples. Lead guitarist, Nick Crandall and his dragon lady, Lila and lead singer, Simon Kegan with his almost wife, Margo.
Oblivion is in pieces at the moment. Nick is brooding over losing his band and his best friend and the only keeping Nick sane is the love he has for Lila. All of his passion is focused on her at the moment to where he takes steps to keep her with him…forever.
Simon is off doing modeling gigs instead of singing with the band. He's still with Margo but avoids talking about Oblivion like the plague. His band is counting on him to return but does he have it him to make a comeback? There are reasons why Simon can no longer sing anymore, but all he really needs is a big push and his Margo by his side.
Owned highlights the trials and tribulations of what this band has gone through and will continue to go through. As long as they keep pushing each other, lifting each other, and loving each other, they can get through anything. If you've read the previous books in this series, you absolutely need to grab this book now and read how the authors tied everything up. If you're new to this series, definitely start with book one and work your way to this one. If you love rockstars, this is certainly the series to read.
Book Info:

Publication: May 23rd 2016 | Rainbow Rage Publishing | Lost in Oblivion #5
Music kept them going. Now it's torn them apart…
Guitarist Nick Crandall lost the most important thing in his life—his band—just as he was falling in love. A year has passed, and Oblivion is returning from hiatus. And Nick is ready to ask Lila to spend forever with him, even if he won't have his best friend at his side for the ceremony.
Simon has spent the past year trying to find his way back to the thing that sustained him in his darkest hours, then grew to be his biggest demon. Margo has been at his side, but she's tired of him denying his dreams. With her help, he's ready to admit it's showtime.
Perhaps he's even ready to stand up for his best friend…and face him on the stage that united them so long ago.
It's do or die, one more time.