Park Avenue Prince by Louise Bay: Louise Bay's Park Avenue Prince is an entertaining and compelling romance where the boy who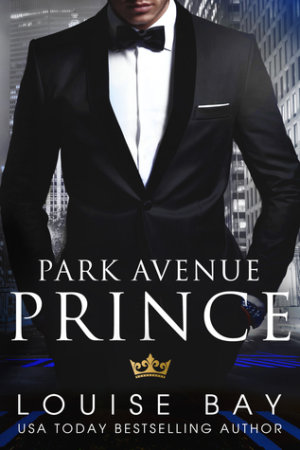 went from rags-to-riches meets his match against the Uptown girl. Sam Shaw was orphaned when he was twelve and lived in a group home until he graduated from high school. When he left, he swore he would be make it one day and make it big. He does, and he is now a very successful businessman and has just bought an apartment at one of the most exclusive addresses in New York City – 740 Park Avenue. Sam never buys anything unless it has the potential to make him money; therefore, he doesn't furnish his apartment and chooses to only buy art for his new home. (Furniture can't really be resold for a profit but art can.) He hires an art consultant to help him find the appropriate pieces and ends up shopping at Grace Astor's new gallery, but he's not really interested in the art once he's there – he's interested in Grace.
Grace grew up at 740 Park Avenue and is from a wealthy family, but she decided years ago to not rely on her parent's money or connections. Her gallery has been her dream, and she has worked very hard to open it and is focused on seeing it succeed. Sam is not her usual type of man, but there is something intriguing about him and she's very attracted to him. She's normally attracted to artists who need her help rather than men in suits who are driven and successful. Sam comes onto her very strong, and she tries to resist his advances but their explosive chemistry ultimately wins out.
Sam and Grace hit it off in bed and are surprised to discover they also enjoying spending time together outside the bedroom. Their casual fling morphs into a relationship with feelings, but Sam has never been in a committed relationship, so this is unchartered territory for him. He lost the people he loved most in the world and has shut off his emotions to protect himself from loving someone for fear he might lose them one day. He does not trust easily and is also leery of people who grew up with money – people like Grace . She wears her heart on her sleeve and never expected to fall for Sam but doesn't try to deny or hide her feelings. She does need him to open up and allow her in if they are going to have a chance together.
Sam and Grace are both charming characters who seem perfect for each other. Sam is especially endearing as we witness him struggle to risk his heart in order to love Grace. It was both gut-wrenching and sweet, and I loved seeing him shed his protective layers. Park Avenue Prince is a sexy and sigh-worthy love story that proves the boy who wanted it all – can really have it all.
Book Info:

Publication: February 13. 2017 | Self-published – Louise Bay |
THE PRINCE OF PARK AVENUE FINALLY MEETS HIS MATCH IN A FEISTY MANHATTAN PRINCESS.
I've made every one of my billions of dollars myself—I'm calculating, astute and the best at what I do. It takes drive and dedication to build what I have. And it leaves no time for love or girlfriends or relationships.
But don't get me wrong, I'm not a monk.
I understand the attention and focus it takes to seduce a beautiful woman. They're the same skills I use to close business deals. But one night is where it begins and ends. I'm not the guy who sends flowers. I'm not the guy who calls the next day.
Or so I thought before an impatient, smart-talking, beyond beautiful heiress bursts into my world.
When Grace Astor rolls her eyes at me—I want to hold her against me and show her what she's been missing.
When she makes a joke at my expense—I want to silence her sassy mouth with my tongue.
And when she leaves straight after we f*ck with barely a goodbye—it makes me want to pin her down and remind her of the three orgasms she just had.
She might be a princess but I'm going to show her who rules in this Park Avenue bedroom.
A sexy, standalone, contemporary romance.