In PAWN (Mr. Rook's Island #2) by Mimi Jean Pamfiloff, When Stephanie Fitzgerald first stepped foot on Rook's tropical paradise,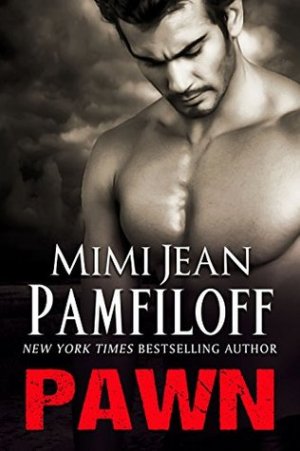 she had no idea of the mysteries she would uncover or the outrageous tales she would hear. Over a week since her arrival finds her even more confused than when she first began. She still isn't exactly sure what happened to her beloved older sister Cici. And Stephanie is not entirely convinced that the story Rook gave her is completely true. She does believe, though, that there is something very strange happening on the beautiful island. Something that might even be a threat to her very own life if she's not careful.
He drew a shallow breath and released it, infusing a sigh into his quiet words. "But you have a home here as long as you like. At least I can give you that."
My tears turned to a silent sob. How this man knew exactly what my heart ached for, I didn't know. But he did. It was his gift.
Just when Stephanie thought she had narrowed down what Rook and his crew have been hiding, she's thrown for a complete loop as she accepts a job at the fantasy resort. Nothing on the island–and especially nothing about Rook–is what it seems. Suspicion gives way to enlightenment which gives way to a steamy desire for her enigmatic new boss. Stephanie has never felt so drawn to a man before. And she knows it's a bad, bad idea to even flirt with the idea of getting involved with Rook. But when he shows her an entirely different side of his personality, she might not have any other option but to see where things go between them.
"I know what I'm asking is selfish, Stephanie. But I have made thousands of people's dreams come to life. I deserve to have mine too. And it is you."
Two words that pretty much sum up how I felt after reading Pawn: Book Hangover. There were so many incredible plot twists and new revelations it was enough to give a reader girl whiplash. But I wouldn't expect anything less from Mimi Jean Pamfiloff.
"Who *are* you?"
He opened his pale eyes and gazed tenderly into mine. "Today I am a sinner."
MJP brought her A-game for the second installment in her Mr. Rook's Island series. This was definitely a game changer, with Stephanie finally getting some answers as to what happened to her sister Cici and the truth about Rook and his island. I will warn of two things. First, you would want to read these books in sequential order to get the full effect as the story builds and changes along the way. (Same with Rook and Stephanie's yummy chemistry as it grew more intense!) Second, this did have a wee bit of a cliffhanger. Okay, so it was more of a "what the heck just happened" cliffhanger, but if you've read a book by MJP then you know to expect it.
It seemed like for a good chunk of this story it was Stephanie versus Rook as they battled wills and battled their hearts' desires. I'm a fan of romances that feature intense emotions and strong attraction and boy didn't this couple deliver in that regard. Stephanie was focused on getting details about her sister's time on the island but just like in the last installment, she couldn't get past her growing feelings or the pull towards Rook. He was every bit as mysterious the majority of time here but we finally found out more about him, his past, and his true purpose on his tropical paradise. There was still more to figure out obviously, but I can say that it was a whirlwind of romance and tender moments between Stephanie and Rook that turned into hurt feelings and even more questions to be answered.
Exciting, shocking, romantic, heartbreaking. Pawn deftly went from one extreme to the other and back again, leaving this fan wanting oh so much more of Rook and Stephanie's dark & stormy relationship.

Book Info:

Publication: Published November 3rd 2017 | Mimi Boutique | Mr. Rook's Island #2
From New York Times Bestseller, Mimi Jean Pamfiloff, Comes Part Two of Mr. Rook's Island, a Sexy, Dark, Romantic Suspense.
SHE KNOWS HE'S BAD. THE QUESTION IS, HOW BAD?
Stephanie Fitzgerald is nobody's pawn. Determined to discover the truth about a missing loved one, she lands a job at the world's most exclusive resort, working for the only man with the answers–Mr. Rook. He's shockingly handsome, thoroughly intimidating, and completely off-limits.
But the truth she seeks isn't black and white, and Mr. Rook is a far more dangerous temptation than she ever knew.
Will Stephanie resist her desires, or will she be lured into Mr. Rook's world of hidden sins?