Penthouse Player by Tara Leigh is book one in the Billionaire Bosses series and has plenty of intrigue to keep anyone interested. If you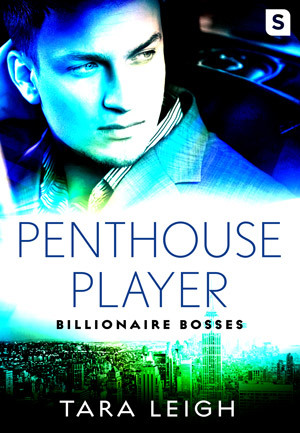 adore workplace romances, like me, then you will definitely enjoy this romance. In this story, Reina St. James makes her mark on Wall Street in a more than satisfying way.
Reina is beautiful, intelligent, and savvy. At a fundraiser, she lands the attention of one of the sexiest men there, and their attraction to each other continues all the way to his bedroom. Everything was going well until she found out his last name and bolted.
When Reina runs out on Tristan, he's in shock. He can't believe she would leave when they were clearly hot for each other. Turns out he'll get his answer as to why she ran, when she is introduced as his new employee. Tristan can't afford to have a workplace romance mess up is hedge fund. Business always comes first, but there is something about Reina that he can't ignore. In this instance, it's in his best interest to keep her close…until Reina's secrets come out and threaten everything Tristan has worked for.
I will say that it did take me a few chapters to get into this story. But the story does pick up and when it does, it becomes enthralling. The characters were sharp and entertaining. Reina had a tough life growing up, with her mom leaving her and her biological father refusing to claim her, but instead of dying of in the shadows, she hustles and shows the world she can't be beaten. Tristan is charming and just plain nice. We usually read about billionaire assholes, but Tristian isn't like that.
Overall, Penthouse Player is filled with romance, secrets, and scandals, making it a recommended read! If you enjoy forbidden romances, this is a great choice.

Book Info:

Publication: September 5th 2017 | Swerve | Billionaire Bosses #1
Abandoned by her mother and spurned by her father, Reina St. James is tired of being treated like a dirty little secret. It wasn't easy making her way into the high-risk, high-reward Wall Street world ruled by financial kings and trust fund tyrants. But now that she's got a stiletto-clad toe into one of the swankiest firms in Manhattan, Reina is determined to prove she's more than just a pretty face hiding an ugly past.
For Tristan Xavier Bettencourt IV, escaping the shadow cast by generations of family fortune has been difficult, and success hasn't come without sacrifice. Tristan has always put business before pleasure… Until Reina's curved lips prove an invitation he can't resist.
Walking away from their explosive night together won't be easy, even if the heat between them might consume both of their careers. Will Reina and Tristan risk everything by betting on each other?