In Perfect Together by Carly Phillips, after breaking her engagement and leaving her job, Nicole seeks a fresh start in Serendipity. With wealthy but distant parents full of expectations and a mentally ill sister, Nicole is ready to finally do what she wants to do and be who she wants to be. For her, not for anyone else. When she is confronted with suspicions that her fiance's father has some very shady business associates probably on the wrong side of the law, it confirms to her that it's time to move on.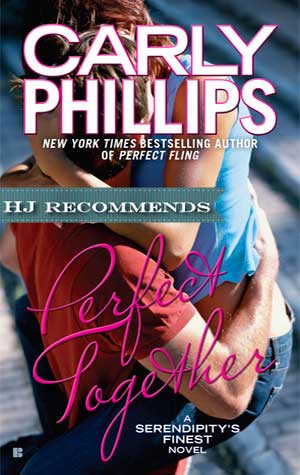 Sam is a detective in Serendipity. Having met each other before in less than ideal circumstances, and for only a brief time, neither Sam or Nicole has forgotten the other. In the short time she knew Sam, Nicole felt more for him, reacted more to him. than she ever did for her life long friend turned fiance. She is definitely not looking for love or a relationship, but those feelings proved to her that marrying her ex would be wrong, despite her mother's objections.
In small town Serendipity it's a given that Sam and Nicole will run into each other again. When they do, the sparks are still there, the heat is just as hot. Neither of them wants a lasting relationship, but friendship and whatever else they can have for now might be all they both want..Sam feels an unexpected sense of attachment to Nicole, especially when her ex fiance Tyler shows up, determined to win Nicole back.
Tyler might be in Serendipity to get Nicole back, but it's for all the wrong reasons. Nicole wants nothing to do with that, and finds herself wanting more and more to have everything to do with Sam…everything both of them thought they didn't want. Soon Nicole is going to have to confront what's chasing her…will Sam be by her side? Can either of them trust their feelings and each other to give love another chance? Finding strength and courage in themselves and each other could make them Perfect Together.
Nicole and Sam are a couple who are fun to watch as they struggle with their past issues and try to fight the idea of relationships. Their character evolvement in Perfect Together really lets the reader get to know them and see who they are as we see them grow. They make a great hero and heroine with their deep and somewhat complicated personalities.
Nicole holds a lot back from Sam and at times this is frustrating as a reader, but at the same time you can see her point and relate to her. Despite how she initially came to be in Serendipity the first time, she doesn't hide who she is and she doesn't apologize for being who she is either. She's not sure who to trust though, she's not even sure if she can trust her own feelings. It is really great to see Nicole find true friendship for the first time in her life, to make her own plans for her future, empowered and ready to move into that future. For the most part she is confident, and she is definitely courageous! She's someone you'd love to have as a friend.
Sam has had a really bad relationship experience and never quite recovered from it. Like Nicole, he doesn't always trust his instincts and doesn't want to risk it all again. He just can't stay away from Nicole though! I did really like Sam and could definitely feel for him. I felt that underneath the armor he's built around his heart, past his scorching hotness, he is a man looking for what he hasn't found yet.
The secondary Carly gives us in Perfect Together are ones we've seen through out this series, but they are separate enough from the plot that Perfect Together can definitely be read on it's own. Carly does introduce a secondary romance involving Macy, a woman who quickly becomes Nicole's friend, and I felt that this was a great addition to Nicole and Sam's story, one that complimented it perfectly. Carly transitions between this secondary romance and the main romance flawlessly, blending the whole story very well.
Carly Phillips gives us a great small town romance in Serendipity. The familiarity of the small town and acceptance they have of people comes across very strongly in Perfect Together. It is a place I could picture being and Joe's bar is a place I could picture meeting up with friends! With her writing, Carly brings Serendipity and the people who live there to life!
The little suspense that Carly gives us in Perfect Together is a part of the plot I found really enhanced the whole story, and the way she pulls it all together for the reader will draw you in and have you feeling hope for Sam and Nicole.
I'd recommend Perfect Together to any romance reader who like heat and suspense mixed in with love and new beginnings.
Book Info:

Published February 4th 2014 by Berkley
In the picturesque town of Serendipity, New York, three siblings have grown up in the shadow of their proud and respected police chief father. But what do love, fate, and fortune have in store for the next generation of Serendipity's finest?
Tired of being the easygoing daughter, always ignored in favor of her high-maintenance sister, and no longer interested in being her fiancé's trophy wife, Nicole Farnsworth calls off her wedding. All she wants is to be herself. And where better to find her destiny than Serendipity? The place where she met the one man who made her heart beat faster, and gave her the courage to reinvent her life—even if he doesn't know it.
Officer Sam Marsden calls Serendipity home and he loves it there—even though his childhood sweetheart was stolen by his best friend. After such heartbreak, Sam fears he can't trust his instincts when it comes to love. Yet he's so tempted by Nicole, a woman he met only briefly but who has starred in his dreams ever since. For Nicole and Sam, opening their hearts one more time could change their lives forever. But who'll be the first to take that chance