Plain Jeopardy Any novel by Alison Stone is a novel guaranteed to keep me reading until the very last word.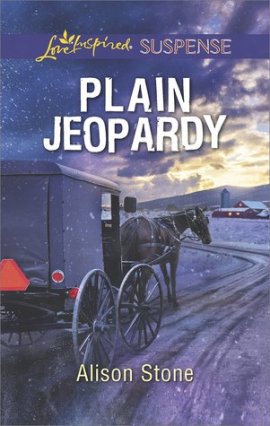 Ms. Stone is a gifted storyteller, especially in weaving romantic suspense!
In Plain Jeopardy, it is touching to see that Grace has an opportunity to discover who was responsible for murdering her mother many years ago, the mother Grace really doesn't remember. Grace is recovering from surgery and writing a story about a recent crash involving two teenagers, when elements of that story lead to hints about her mother's death. Grace and the police officer Conner experience an instant connection when he is called to help rescue her multiple times. Grace is desperate to learn the truth about both cases, yet a certain person in town is just as desperate to ensure Grace does not learn the truth.
This story is full of twists and turns as Grace researches what could have happened. Ms. Stone is excellent at creating such twists and turns! I strongly recommend Plain Jeopardy, and cannot wait for Miss Stone's next novel.
Book Info:

Publication: February 6, 2018 | Love Inspired Suspense |
Reporter Grace Miller's Amish hometown seems the perfect place to recuperate from surgery—until a tragedy puts her on the trail of her mother's long-unsolved murder. Now someone's set their lethal sights on her, determined to keep the truth behind her mother's death and a fatal car crash involving local teens hidden. After discovering that Grace is in danger, police captain Conner Gates drops everything to protect her…and help solve the cold case his father could not. But as they delve into the past, can they face down the dangerous foe hiding in plain sight, threatening to turn their blossoming love into a deadly trap?