Plain Target by Dana Lynn was a very enjoyable combination of three of my favorite genres: romance, Amish and suspense all in one.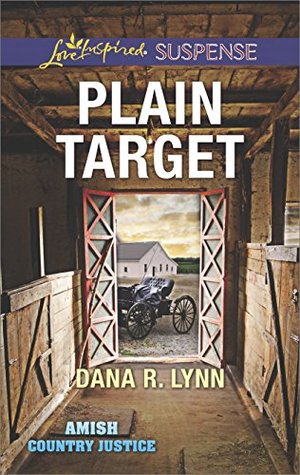 And I am excited that this is the first in a series- I am looking forward to the next installment!
In "Plain Target", we meet Jess, a horse trainer who is seeking desperately to clear the name and reputation of her deceased brother, and to prove his death was no accident. When she is harmed in her barn, she is cared for by a very capable and handsome paramedic, Seth – who is a blast from her past in high school. Being hearing impaired, Jess is stunned when Seth fluently signs his words while she lip reads his speech- she did not expect him to be familiar with sign language. The fact that Jess and her closest friend, Rebecca, were profoundly hearing impaired, touched a chord- my husband and I both have hearing impairment. Seth's consistency and thoughtfulness in always making sure Jess can see his face while he is talking, shows his kind character that he has worked to improve since he humiliated Jess in high school.
Jess's efforts to clear her brothers' name quickly infuriate those characters who wish their involvement in her brothers death to be left undetected. Seth quickly appoints himself Jess's bodyguard after successive attempts on her life early in the story. "Plain Target" lives up to its' genre as a suspense, with multiple twists that keep the reader guessing which character, or characters, are out to harm and silence Jess. Jess must learn to trust Seth, which is difficult for her given his treatment of her in high school But trust him she must, to outsmart the attempts on her life. To find out exactly what happens, and who is behind these attempts, I strongly recommend that fellow readers pick up "Plain Target'. You will be on the edge of your seat also!
Book Info:

Publication: April 1, 2017 | Love Inspired Suspense | Amish Country Justice #1
Horse trainer Jess McGrath only wants to clear her disgraced brother's name, but enemies keep coming out of the woodwork and danger only gets closer. Jess soon learns that no place is safe–and no one can be trusted…except for the last white knight she'd ever expect to ride to her rescue. Paramedic Seth Travis was the boy behind her high school humiliation, but he's also the man keeping her alive. When they find sanctuary in the Amish community, can they uncover answers in time to stop a killer–and resolve their past in time to build a future together?