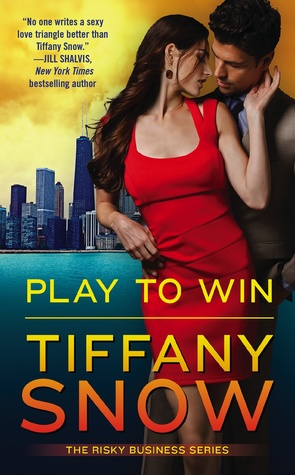 In Play to Win (Risky Business #3) by Tiffany Snow, Sage Reese would do anything to protect the two men she loves. Having to end her relationship with both of them may devastate her, but it's what she has to do, especially now that the two men have finally started to repair their friendship, a friendship that turned sour because of a woman. However, when someone targets Sage and the mysterious woman that tore Ryker and Parker's friendship apart comes back into their lives, Sage will do anything to keep them safe, even if it means risking her own life.
"You and I belong together, and no matter how long it takes for you to realize that, I'm not giving up."
Although I wasn't sure whether I'd read this book after being introduced to this series with the second book, I'm glad I had the opportunity to read it because it was the best book of the series. I really liked how it started with Sage doing something so honorable, even though it broke her heart to end things with both men. However, Parker doesn't make things easy for her and the moment he declares his plans of not giving up on them having a future together, this book grabbed my undivided attention. He would do anything to protect her from a madman determined to destroy everything her father has worked hard for.
The danger Sage finds herself in sets the fast-pace of the story, and the dialogue is a nice mix of intense and playful. Parker really knows how to put Sage's mind at ease when he's teasing her, but when he doesn't tell her things that may be in her best interest to know, it was frustrating; because as much as he wanted to protect Sage, she was determined to do the same for Parker. The intense dialogue was due to Sage's back story, and the trouble she finds herself in when she decides to investigate things on her own.
I really liked Sage in this book. She's resilient, brave and tenacious. No way is she going to allow Parker to sacrifice himself to protect her. Confronting the bad guys; or those she assumes are out to get her seems like a bad idea, yet she does it. She wants the nightmare that her life has turned into to end. Dealing with Ryker and Parker's ex, Natalie, takes its toll. She doesn't trust her, and I could understand why she was upset by the fact that the two men were helping her. Certainly, Natalie didn't deserve their help after everything that she did to them. However, the two men are kind and caring men that will do anything to help someone in need.
"Everything else about you is hard to read, but your eyes…your eyes are so expressive. When you look at me, they change. Sometimes they burn right through me and I can feel how much you want me. Other times, like now, they're soft and warm, like you're thinking of how much you love me."
"What an odd coincidence. That's exactly what I'm thinking." He kissed the tip of her nose.
"Great minds think alike," I quipped.
"And fools seldom differ," he finished.
Throughout this story, Sage's relationship with the two men takes an interesting turn. She's determined to keep her distance from both men, and yet, it doesn't seem to work. Not with the trouble that's brewing. Trouble that she will need both of their help to combat and come out the winner. Parker is altruistic, and willing to sacrifice their future for her life, but she's not about to let him. Not now that they've finally decided that their strong chemistry should no longer be denied. Eventually, that chemistry spills over onto the pages in scorching sex scenes that illustrate this couple are meant to be after everything they've been through.
Overall, Ms. Snow has done a wonderful job penning this final book of the Risky Business trilogy, and I enjoyed the way it ended with Parker doing everything possible to keep Sage safe. I was also pleased that Ryker got his own happy ever after, because if anyone deserved it, it was him. I would recommend Play to Win and the other books of this series, if you enjoy books where the heroine is caught between two men, yet in the end, only one can win her heart.
Book Info:

February 23rd, 2016 | Forever | Risky Business #3
PLAY FAIR . . . OR PLAY TO WIN?
Falling in love with polar-opposite men was an intoxicating ride that nearly ended Sage Reese's life. Now it's time for Sage to decide: Parker, the clean-cut, filthy-rich business magnate . . . or Ryker, the tough-as-nails undercover detective. Her choice? Neither. Because she can't stand the thought of coming between two brothers-in-arms finally trying to repair their friendship.
Yet not everyone feels the same way, including a mysterious woman who's come to Ryker and Parker for help. Sage knows firsthand how hard it is for the two former Marines to resist a damsel in distress. But something just doesn't feel right.
Now there's a danger closing in that only Sage can see, and she intends to do everything she can to protect Parker and Ryker-even at the risk of losing them both.