Playing Fast by Melanie Scott: After one year in the big leagues, Finn's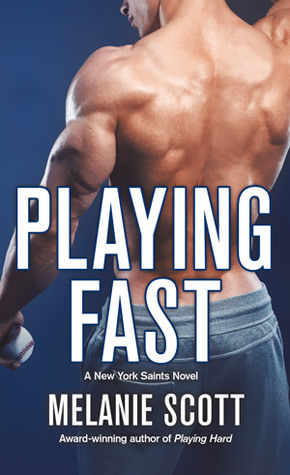 been demoted to the Saint's feeder team after plenty of bad choices, and he'll do whatever he can to make it back. Eva has worked for the Preacher's for fourteen years, needing a stable job at eighteen to take care of her younger sisters when her parents died. All she knows is how to sacrifice for her sisters and to stay where she is for them, but at the end of this year she might finally go after the photography dream she's wanted for years now that she's been accepted into an elite program.
Except Eva's had a crush on Finn forever, and as soon as Finn meets Eva he knows he wants nothing more, aside from joining the big leagues again, than to be with her. They fall harder and harder, spending every moment together they can, but both have plans to leave, so whatever happens, can't last. Yet the more they get to know each other, the harder the idea of leaving becomes.
And when Eva's sister comes running to Eva for help, it looks like Eva might not be able to leave at all, just as Finn's career looks to be taking off again.
"What do I have to do to win?"
"Come over here and kiss me. Then tell me there's nothing here."
I absolutely loved Playing Fast and in general just love Scott's stories. They're sexy and real. And, as usual, I definitely felt the tension throughout this story. The best part is, as much as I loved it, I was dying for it not to happen because Eva and Finn are truly perfect and adorable together. I couldn't help but love both Finn and Eva. Finn's earnestness, especially his totally open heart and desire to be better, just about made me swoon. Also, how can I not adore the hero who so obviously and honestly falls for the heroine?
Although, I do think I would've liked to see him falter. He was almost too perfect and all the conflict was definitely Eva's. Though, you can't help but admire her for standing by her sister when tragedy struck. As annoying as her pulling away may be, I get it.
I really do like the community Scott creates. There's some trouble with characters, but the friends they make are definitely golden and I am craving to read their stories. There's a decent touch of baseball as well, although it, and everything else, takes a backseat to the romance, of which I'm highly appreciative.
Overall, I loved this romance and left the book just wanting more of Eva and Finn. My only complaint would be with the case of Finn's recovery. He never had serious issues, but I definitely wanted to see him work through what made him go wild before. It would've helped made him more four-dimensional. But for those who love the athlete romance with a sweet and sexy couple, I highly recommend Playing Fast.
Book Info:

Publication: August 30, 2016 | St. Martin's Paperbacks | New York Saints #5
THREE STRIKES AND HE'S OUT…
When baseball bad-boy Finn Castro raises one eyebrow too many, the Saints send him down to the minors. He'll have to earn back his major-league dreams with the Sarasota Springs Preachers. Finn's certainly never claimed to be a man of the cloth, and cleaning up his act isn't going to be easy with stunning Eva Harlowe at the heart of the team's administration…
UNTIL SHE THROWS A CURVEBALL
Eva knows having a crush on Finn Castro is about as sensible as wishing for an eighth day of the week, but seeing the gorgeously muscled player in person melts her resolve. If she's planning to leave baseball at the end of the season, a hot fling could be a fantasy home run. But when no-strings sex begins to feel like a perfect partnership, will Finn and Eva choose the love of the game or real life together?