Playing With the Drummer (Head Over Heels #3) by Robin Covington, is the final book in a series that is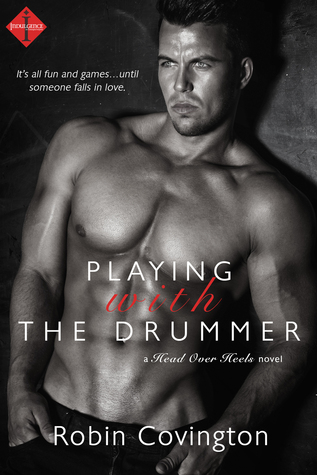 centered around the super popular rock band called The Rift. The band's four original members are together once again, attending the lavish Montana wedding of their lead singer Jake Mitchell, and his soon to be bride, shoe designer to the stars, Callie Hanover. This book is about the band's drummer Rocky Cardano, and Lita Matthews, an entertainment journalist who is also the best friend of the bride's sister. Not only is Lita a wedding guest, she is also covering Callie and Jake's extremely bumpy love story. Lita is not your typical entertainment reporter, since her words are consistently truthful and fair. So when her boss highjacks her partially completed story and puts his own disgusting spin on it, all hell breaks loose.
Rocky and Lita met in Mexico four years ago and spent a few glorious days basking in each others' lust and desire. It was basically love at first sight, however, due to Lita's tell-all lifestyle and Rocky's invisibility to anything press related, their budding relationship never blossomed. They still have strong feelings for each other, which they decide to explore once again. Unfortunately the trust issues of the past, mar the passion and love they are presently experiencing.
Although I only read book two in this series, I had no problem following the story. I really connected with the friendship dynamic Ms. Covington created. Each personality added something unique and special to the storyline. Most importantly, the two main characters Lita and Rocky, are likeable, interesting and replete with yearning for one another. Individually and as a couple, they are fascinating people. Lita's ability to report celebrity scandals with candor and honesty is quite refreshing. Rocky is a kind, alpha male that will do whatever is necessary to ensure the safety and happiness of those he cares about.
I enjoyed this book. Ms. Covington crafted a warm and engaging story with a ton of heat and passion. The ending left me smiling from ear to ear.
Book Info:

Publication: December 29th 2014 by Entangled: Indulgence | (Head Over Heels #3)
Entertainment journalist Lita Matthews is on the verge of making it big. As in her-own-TV-show big. She just needs amazing inside scoop on the year's hottest celebrity wedding. Instead, her big break is becoming a big nightmare—all thanks to rock star Rocky Cardano. Who apparently hasn't gotten over what happened between them four years ago… Rocky is pretty damn familiar with just how far Lita will go for a "scoop." Hell, their unbelievably hot hook-up in Mexico years ago was the story of a lifetime. Rocky's learned his lessons. He'll do whatever it takes to keep her from the story—even if he has to seduce her to the point of distraction! But Lita has always had a way of getting under his skin. Only this time, he won't be able to just walk away…