Pregnant at Acosta's Demand by Maya Blake: Suki is smart, creative, and shy. She hasn't had good luck with relationships or men in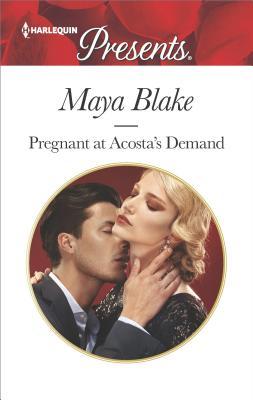 general, so she doesn't understand her attraction to her best friend's playboy brother. Ramon may be devastatingly sexy, but he irritates and flusters her like no one else. Ramon is a high-powered businessman running the family hotel empire and who frequently travels between all of their many properties.
Suki believes that Ramon is definitely out of her league, between their differences in status and personality. He can have anyone he wants, so she's surprised when he turns the charm on her, especially after her hidden backbone makes an appearance. Succumbing to their attraction for one night definitely has consequences for them both. They are tied even though the unexpected pregnancy ended in tragedy. After the devastating loss, Suki is more than surprised that Ramon would insist that they try again. Ramon definitely shows his instincts to protect, take care of, and control both Suki and the situation.
"Do you intend to dictate every single second of my life from now on? Because if that's the case you and I will have a big problem."
"Accept that I will be taking a huge part in making sure this pregnancy goes smoothly and we won't have one."
They are forced to spend more time together, get to know each other, and deal with their past while enjoying their chemistry. Suki tries to remain as independent as she can as she is torn between their agreement and the growing intimacy between them. She challenges him and his many expectations.
"I feel like we've been here before but this time on a much grander scale. Is this your way of apologising?" she asked.
He allowed himself a small smile. "If I say I need time to find the right words will you ride in my limo again?"
"Been there, done that," she quipped.
Pregnant at Acosta's Demand is a sexy and emotional opposites attract romance. Maya Blake created a good balance between the romance, conflict, and tragedies. Ms. Blake provided rich descriptions of the international settings. Fans of Andrea Laurence and Kate Hewitt will enjoy Pregnant at Acosta's Demand.
Book Info:

Publication:  July 18th 2017 | Harlequin Presents |
Baby by blackmail!
Shy Suki Langston has desired Ramon Acosta for years, and one shocking night he gives her pleasure beyond her wildest imaginings. But when an unexpected pregnancy ends in tragedy, Suki knows that any hope of a future together has been extinguished…
Then the arrogant magnate returns, determined that Suki will provide him with an heir! Ramon's outrageous demand reignites both Suki's longing for a child and the burning memory of his touch…
Suki agrees, certain she can keep her physical responses under control! Until their explosive reunion proves just how susceptible her body and heart still are to him…