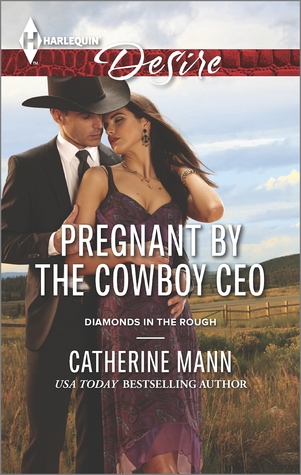 Pregnant by the Cowboy CEO by Catherine Mann: What do you do when the one man who ever really rocked your world is the one man who has the ability to change your entire life?
Amie McNair designed jewelry by trade. She was lucky enough to be a part of a jewelry family, which made it very easy. She was also one of three grandchildren to her grandmother and in order to gain their inheritance they need to pass their grandmother's tests. Amie had watched her cousin and her twin go through their tests and find happiness but now she had to pass hers.
Preston Armstrong had a jaded history to say the least. He wasn't too pleased with events in his past but now he was just focused on work and his future. He had been brought in to help Hidden Gems and he was determined to do it regardless of it all.
When Amie and Preston are forced together for a week, neither could predict what would come out of that time. Both are working for Amie's grandmother and neither want to fail her, but sometimes the heart and the head just can't seem to meet. Will these two ever be able to make them or when the week ends will they go their separate ways?
This is the last book in the Diamonds in the Rough trilogy though it can be read as a standalone without any issues. The book has a bit more heat than others of Ms. Mann's but in a good way. Ms. Mann fleshes out the McNair family more in this novel which is really great and does a fantastic job at closing loose ends if you have kept up with the series. If you haven't it's okay as well because everything is explained. This is a definite pickup to have some unexpected workplace romance while learning about finding oneself in forgiveness and trust.
Book Info:

 July 7th 2015 | Harlequin | Diamonds in The Rough #3
From one-night stand to one huge secret! Only from USA TODAY bestselling author Catherine Mann…
Jewelry designer Amie McNair would do anything for her dying grandmother, including promise to travel with the outsider chosen to run her family's business empire. Simple. All she has to do is keep her hands to herself…and find a way to let the sexy new CEO know she's pregnant with his child.
Preston Armstrong has secrets of his own. But spending a week with Amie has this tight-lipped cowboy longing to open up. Even if his past threatens their future—as a couple, and a family.