Pregnant with a Royal Baby! by Susan Meier: The funny thing about one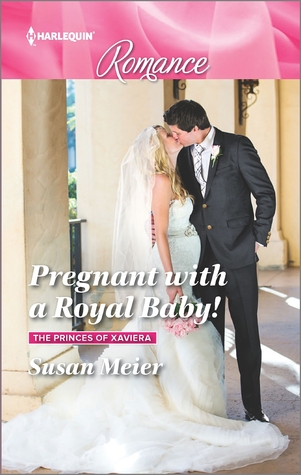 night stands, 9 times out of 10 that is all they are. 1 in 10 is all it takes though.
Virginia, Ginny, Jones knew that better than most. After one glorious night with a Prince she thought she would just be living with some great memories. After all if her parents relationship taught her nothing else it taught her that she could rely on two people, herself and her mom. That was all she needed and she was happy. Her job, her life, everything was the way she wanted it to be.
Prince Dominic Sancho of Xaviera knew after seeing Ginny he needed a night with her, not a future, but a night. What a glorious night it turned into. Still he was a Prince, he knew what needed to be done. So he went back to Xaviera and prepared to be the King as his future had set out to be. He didn't need to love, didn't want to love and certainly wasn't planning on loving.
However two weeks later they both realized that their lives were going to change and nothing would be the same. Would Ginny be able to trust? Would Dominic be able to love? Would a baby bring them together or tear them apart?
Ms. Meier gives her readers a touching love story of a wounded young man who hadn't seen the benefits of love, only the young persons jaded memories of how love can change a man. Layered with that is the story of a happy young lady with some trust issues but who quickly realizes that love conquers. This story is an emotional roller coaster to say the least. The plot is fairly straightforward but for one surprising twist that makes you both thankful and incredibly upset with Ms. Meier.
Pregnant with a Royal Baby! by Susan Meier is a good read especially if you enjoy one-night stands that may just be forevers.

Book Info:

Publication: February 9th 2016 | Harlequin Romance | The Princes of Xaviera #1
Marrying for the baby's sake
Prince Dominic Sancho has always lived up to his family's royal expectations. Until one irresistibly spontaneous night with teacher Ginny Jones has dramatic repercussions—she's now carrying the next heir to Xaviera's throne! There's only one solution—a royal wedding…
A marriage of convenience is Ginny's worst nightmare, but for their baby's sake, she says "I do." And as the royal couple jet off on their honeymoon, she begins to realize that beneath the royal etiquette, Dominic is a daddy—and loving husband—in the making!