Prince Nadir's Secret Heir by Michelle Conder is a well written romance and the seventh part in the One Night With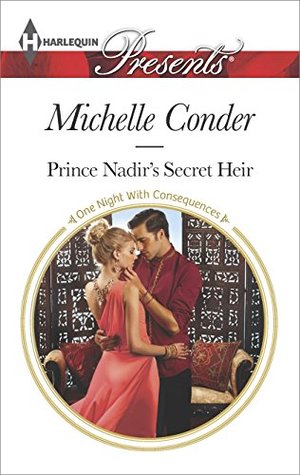 Consequences series. It follows the pregnancy trope as the series suggests.
Moulin Rouge dancer Imogen Reid runs away from Prince Nadir after their brief liaison after discovering their affair has consequences which Nadir does not approve. Now he's found her again and he is not letting her go. He forces her and their daughter to return to his kingdom, Bakaan.
He decides to marry her to secure his daughter's position but persuading Imogen for a marriage of convenience turns out to more difficult than he anticipated as does keeping his hands to himself when their attraction turns out to be much more brighter than before.
'Because there's nothing remotely convenient about marriage and ours will be real.' Real? Imogen swallowed heavily and lost her breath. 'I hope you don't mean what I think you mean.'

'We will be man and wife in every sense of the word, habibi,' he said softly with the same confidence she had once loved
Prince Nadir's Secret Heir by Michelle Conder was an enjoyable sheikh romance with well developed characters. The story had an even pace and moved along with a smooth flow. The ending and the climax towards the end were a little messy and too short. An epilogue would have been better to wind things up (IMO).
Nadir is a tortured hero who is on the alpha side. He has a cynical view of everything around him because of his past. Imogen is a sweet and likable heroine but unlike what the blurb says, she is not a virgin and although it's not a huge thing to point out but for readers who prefer to the same, the blurb does mislead a bit. The romance was hot and passionate because Nadir and Imogen had an amazing chemistry.
I'm hoping their is a book on Nadir's brother Zach who stole the show for me with his entry.
Overall, Prince Nadir's Secret Heir by Michelle Conder is an enjoyable romance with likable characters.
Book Info:

Publication: March 1st 2015 by Harlequin Presents Series #3320 | (One Night With Consequences #7)
The prince with the plan
Prince Nadir's brief liaison with virginal Moulin Rouge dancer Imogen Reid was over almost before it began. And Imogen fled…carrying something very precious to Nadir. Now he's found her again and he has a plan:
Step 1: Take Imogen and their daughter back to Bakaan.
Step 2: Ignore his body's betraying desire for the woman he never forgot.
Step 3: Marry Imogen, thus securing his heir and stabilizing his desert kingdom.
But step two proves increasingly difficult to execute, especially when it's clear he's not the only one struggling. So now it's time for plan B…finish what they started in Paris!