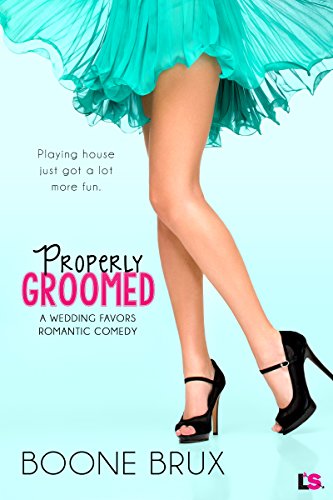 In Properly Groomed (Wedding Favors #3) by Boone Brux, Joya Bennett is embarrassed about what happened after her brother's wedding, seeing as she found herself waking up in bed beside her brother's best friend, Lincoln Fisher. However, it seems she can't do what she wants to do, which is avoid him. Instead, she finds herself staying in the same house with him for two weeks while her brother is away on his honeymoon. Can she change Lincoln's stance on relationships, or is she better keeping her long-time crush a secret from him?
He pivoted to face her, a lazy grin curling his mouth. "Is this about last night?"
"No." It was totally about last night and whether she should be embarrassed or relieved. "Why would you think this was about last night? Nothing happened…right?"
"You don't remember?" Mortified, she shook her head. He closed the distance between them to a couple of inches and stroked his finger along her jaw. ""Now that's a shame."
What a wonderful brother's best friend trope encompassing story this author has penned in this third book of their Wedding Favors series, which started with a laugh in the opening chapter because of the heroine's dilemma. How did she come to be in the same room with her brother's best friend? Did she do anything too embarrassing? Why is it she can't remember much? However, it was the playful dialogue between the hero and heroine and the obstacles these two had to face to achieve their happy ever after that made this story a real page turner for me. Obstacles such as the hero being the heroine's brother's best friend and the fact that Lincoln doesn't do relationships.
I loved the hero. He's cocky, confident and isn't afraid to go after what he wants and what he wants is to be with the heroine. He definitely knows how to tempt her by using his skills as a chef, by getting all up in her personal space and by teasing her about what did and didn't happen between them. While the heroine, she was a good heroine, but there were moments where she frustrated me, especially because I thought she made the wrong decision when it came to her job. She's worked so hard to get to where she is in her career, and yet, it seemed she was giving up a great opportunity all for love. Then again, she did find a compromise, so that proved she could make good decisions without losing out on something that mattered to her.
"What is it with you? It's like everything you cook is touched by magic."
"Butter, that's my magic." He held his index finger to his lips. "But don't tell anybody. In the world of green smoothies and tofu, it's not a popular practice."
"My lips are sealed."
Overall, I really enjoyed this novella, which encompassed red hot sex scenes that illustrated just how right these two are for each other like many of the secondary characters thought they were. The epilogue wrapped this story up nicely with the way Lincoln surprises the heroine. Who knew cupcakes could be used to bribe her, and Joya's reply cracked me up because she loves to tease the hero just as much he loves teasing her. Her worth to Lincoln is definitely at least the number of cupcakes she suggests. I would recommend Properly Groomed by Boone Brux, if you enjoy the brother's best friend trope.
Book Info:

 January 9th, 2017 | Entangled Publishing | Wedding Favors #3
When Joya Bennett wakes up after her brother's wedding half-naked and lying next to her lifelong crush, she's mortified. OMG, did she try to jump his bones? Worse, did she succeed? Intending to lay low and housesit for her brother until the embarrassment fades, she sneaks away before he wakes up.
What she didn't plan on is having company.
Lincoln Fisher doesn't do relationships, but if he did, his friend's little sister would be the one to tie him down. Good thing Joya had one too many drinks during the reception or he'd have crossed a line. Her brother would kill him if he found out all the places Linc wanted to kiss the sexy, auburn-haired beauty.
And now they're stuck in the same house. For two weeks.
She's off-limits. And he needs to keep it that way, even if the heat building between them is hot enough to blow off the roof…