Proposal for the Wedding Planner by Sophie Pembroke: The bride's sister and groom's brother, nothing more cliché in that hookup,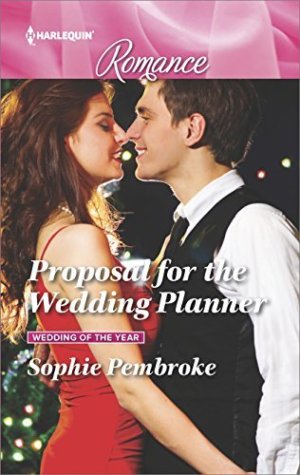 right? Except the bride is seeking revenge and the groom isn't happy with his brother's choice of loves. There are too many prejudices to overcome with this love story.
Laurel Sommers couldn't think past making this wedding something to remember. Her half sister deserved something special, even if she was a walking nightmare. Even if she had turned her life into hell the moment she found out about her existence. This wedding would put her company on the map and somehow, someway she was going to make something for herself.
Dan Black had never thrilled his parents. It seemed he was destined to never please them, but he loved his brother something fierce and was determined to not let that relationship slide. He just wasn't sure of his brother's choice of brides and having been burned once Dan just wanted to make sure his brother wasn't burned at all.
Dan and Laurel have a quick bond and having both been burned they figure they will know when to pull out of the fire before that point, right? Or will this flame burn too hot, too strong, too long?
This is the second book that runs parallel in the pair. It can be read as a stand alone but the two are wonderfully partnered together and besides you will want to read them both. Ms. Pembroke's style is eloquent and as lovely as an English rose with women who are made to withstand and Irish wind. The story is full of hiccups but in the end it's gratifying to see the steel beneath the façade and show the reader about strong women. This is a lovely love story that is just a feel good kind of a read.
Book Info:

Publication: March 7th 2017 | Harlequin Romance |
From one proposal…to another!
Laurel Sommers's world crumbled when she discovered her father's other family. Now she's been roped into organizing her famous half sister's wedding…
Plus, Laurel's ex-fiance is invited. So when the groom's gorgeous brother proposes he play her convenient boyfriend, she agrees! Stuntman Dan Black's relationships are like the roles he steps into–temporary. But it's soon clear his and Laurel's chemistry is here to stay, and Dan starts considering a more permanent proposal…