Protecting His Defiant Innocent by Michelle Smart is the first story in a new trilogy about three powerful Billionaires who soon find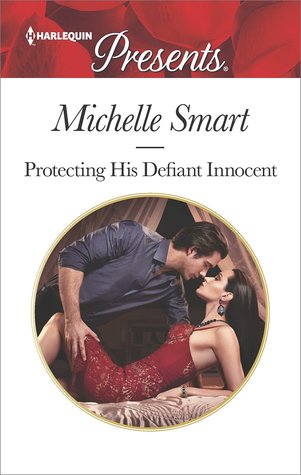 themselves caught in love affairs with strong and determined women.
Francesca Pellegrini is determined to honor her brother's recent passing by fulfilling one of his philanthropic endeavors – building a hospital on the storm ravaged Caribbean island of Caballeros, where Pieta had died in a helicopter crash. Her brother Daniele and cousin Matteo are equally determined to make sure she is protected if she insists on pursuing this cause so swiftly, and hire Felipe Lorenzi, a Spanish security expert to protect her. Felipe is a friend of her late brother, and he will do whatever it takes to keep her safe. But when the sparks fly between them, will their forbidden romance as bodyguard and client spill over into a lasting relationship?
I love a good bodyguard romance! I have to say that it was refreshing to read a hero in a Harlequin Presents who isn't just a wealthy aristocrat or businessman. Yes, Felipe is wealthy and runs his own business, but he's also ex-special forces so a military man, and works full time protecting his clients. Money is not what motivates him, but rather a job well done. His attraction to Francesca, who is sexually innocent but fiery and outspoken causes him some serious concerns as fraternizing with clients is strictly forbidden. But he isn't able to resist Francesca for long, especially when she makes it clear that she'd welcome a fling with him. The result is some sexy and sensual scenes as they succumb to that attraction. Francesca would like to think they could have something more but Felipe believes his lifestyle does not permit him to consider a long term relationship. Fortunately she is eventually able to change his mind, but not without some conflict and good grovelling on Felipe's part.
The plot of this story is action packed and quite exciting. Francesca and Felipe have to deal with corrupt politicians on the island of Caballeros, and people who are after the money she wants to bring into the country to fund the hospital. I thoroughly enjoyed this adventure romance and it has a sweet epilogue to round off their story. I'm looking forward to reading more of this series!
Book Info:

Publication: July 18, 2017 | Harlequin Presents | Bound to a Billionaire #1
Tempted by her billionaire protector…
Traveling to a dangerous Caribbean island to continue her late brother's charitable work, Francesca Pellegrini finds herself under the protection of security tycoon Felipe Lorenzi. Independent Francesca is infuriated by his commands, but Felipe's every look invites her to give up her innocence to him…
With his body and heart as hard as stone after his military career, Felipe has no time for Francesca's seductive games. Until this captivating young woman entices him beyond all measure, and this lone wolf decides to throw away his strict rules and take her as his own!