Pushing the Limits by Jennifer Snow: Colby has moved back to Vegas to be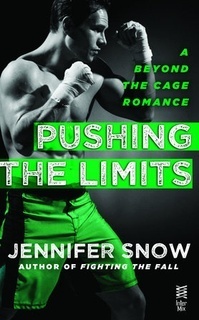 closer to family, but her career took a hit. She went from being an anchor to being a co-host on Get Fit Las Vegas. With another anchor about to go on maternity leave, Colby sees this as an opportunity to get her career back on track. Dane completely left the MMA world after his last competitor died following their match. He's just trying to hold his life together and not drown under the guilt.
Colby decides to go undercover with one of the unsanctioned MMA leagues to find a story that will lead her to that temporary anchor position. Colby is strong and tough; she's studied karate and she's quite capable of defending herself. After leaving her new job as a ring girl one night, she unexpectedly runs into Dane.
She eyed him. "How do I know you aren't as dangerous as those two assholes?"
"You don't. But being out here alone at two o'clock in the morning you're taking a chance with a lot more assholes than me. And besides, I value my vision. Trust me, you're safe."
Dane has plenty of problems, but he can't stop himself from offering to help Colby. She's smart, sexy, capable, and way out of his league. He's more concerned with paying his bills than getting involved with anyone. Colby knows that there's more to the story regarding Dane's last fight and getting at the truth may just help both of them. But the lines between personal and professional are quickly blurred when they give in to their overwhelming attraction.
"Okay, I can see how my note could have been a little confusing."
"A little?" she asked, but she felt the corner of her own mouth twitch.
"A lot," he said, moving closer to her and touching her bare arm.
Pushing the Limits is a sexy, thrilling comeback story. Jennifer Snow brings you into the MMA world with a down but not out fighter and a reporter determined to prove her worth. Ms. Snow brings the drama, heat, and heart along with a great cast of characters. Pushing the Limits can be read as a standalone book. Fans of Jeanette Murray and Jennifer Fusco will enjoy Pushing the Limits.
Book Info:

Publication: March 15th 2016 | InterMix | Beyond the Cage #3
An MMA Middleweight fighter gets blindsided by love in the latest Beyond the Cage Romance by the author of Fighting the Fall.
Dane Hardy's MMA career was on the rise until a legal head kick killed one of his opponents inside the octagon. Consumed by guilt and depression, Dane quit the cage and took a job in security at a Las Vegas casino. But when Dane steps in to break up a brawl on the casino floor, the video goes viral. And now the Maximum Fight League wants him back…
Sports broadcaster Colby Edwards is out to prove that she's more than just a pretty face. Going undercover as a ring girl, she plans to investigate what happens beyond the cage. And her timing couldn't be better. Getting the story on Dane Hardy's return could make Colby's career. But the ex-fighter has his guard up against all comers. Breaking down his defenses consumes Colby, but not as much as the passion that ensues when she succeeds…