In Put a Ring On It (Black Dog Bay #3) by Beth Kendrick Getting into a huge fight with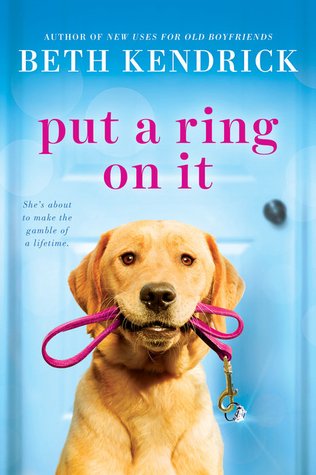 your fiance before work stinks. But getting a call the same day from said fiance only to find out that he married someone he just met is enough to send ever-practical Brighton Smith into a meltdown. In her attempt to regroup, she visits a longtime friend in Black Dog Bay, Delaware, where she runs into Jake Sorensen. Just the fix for a rebound, he looks like a lost Hemsworth brother and shocks Brighton when he offers to marry her after a few drinks.
"…I'll take you upstairs to my bedroom."
Her throat went dry. "Okay."
"And I'll take off that suit and that shirt and those pearls and do hot, sweaty, dirty things to you."
She gave up trying to talk and just stared up at him.
He smiled, slow and wicked, and Brighton Smith, lifelong control freak, finally lost control.
What happens next completely unravels Brighton in the best of ways. She feels free to be herself on her temporary vacation from real life. Jake proves to be every bit as charming as he first appeared, sweeping her off her feet with lots of fun and lots of lovin'. But when the truth comes out about Jake's fast proposal, Brighton is left to decide if what she feels for him is strong enough to give a real relationship a try. Or should she just enjoy the fleeting moments of their casual affair and make the most of it while it lasts?
He kissed her again, tender and unhurried. "Stay."
"For a little while," she relented, closing her eyes.
He brushed his lips across her eyelids, his voice like a caress. "Forever."
Put a Ring On It was an absolutely charming contemporary romance that had me in stitches as well as rooting for our hero and heroine to make their romance last. Besides, with such a super-cute book cover, who could resist giving this one a try?
"He was a spur-of-the-moment, seat-of-my-pants, double-dog-dare marriage of convenience. Like a Regency romance meets Mad Libs."
Jenna smiled. "Sometimes, that's just what a woman needs."
I am new to not only the Black Dog Bay series, but also Beth Kendrick's work in general. I have to say, though, that I loved every single minute of this story–which, I should mention, can be read as a standalone. There was a wonderful thread of humor through it that really appealed to me. And the characters seemed genuine; like people you could imagine yourself being friends with. In a lot of ways, Kendrick's writing style reminds me of Jill Shalvis and Kristan Higgins, both of whom I am a big fan. (Why do I see a book binge of Kendrick's other novels coming on?)
Like I've said before, marriage of convenience is not always my favorite trope. But with the chemistry so strong between Jake and Brighton and the fun way they met/hooked up, I could tell it would be a journey worth taking with them. I actually liked both Brighton and Jake equally well. She may have planned everything in her life out to a T, but she had a feisty side just longing for adventure. And Jake was the 'rebound guy', as he was known far and wide, who brought Brighton out of her shell.
Jake and Brighton were completely adorable as a couple. But I liked that not everything with them was all champagne and roses. Brighton's life was in chaos and she was worried about how to move on once she left Black Dog Bay, returning to her real life. Jake was struggling with how his past kept creeping back up on him time and again. I also think it felt more believable that they were both torn over their strong feelings for each other and neither one knew if they could trust how long it would last.
Black Dog Bay proved to be a magical place where the brokenhearted could heal, and those in love prospered. If you like small town romances with strong characters, amusing dialogue, and a solid plot, you should definitely read Put a Ring On It.
Book Info:

Publication: Published November 3rd 2015 | by NAL | Black Dog Bay #3
The author of New Uses for Old Boyfriends returns to the Delaware seashore town of Black Dog Bay, where one woman learns to put passion before practicality…
Brighton Smith doesn't do outrageous. As an insurance actuary, it's her job to assess risk and avoid bad investments. But when her fiancé calls to confess he's married someone else on a whim ("I looked at her and I just knew!"), she snaps…
That night, at a local bar, Jake Sorenson—hot, rich, and way out of her league—buys Brighton a cocktail. At midnight, she kisses him. And by dawn, they're exchanging vows at a drive-through chapel.
Brighton knows Jake is a bad bet, but she doesn't care. After a lifetime of playing it safe, she's finally having fun. Until the whirlwind romance gives way to painful reality…and Brighton finds out the truth about why a guy like Jake married a girl like her. With her heart on the line and the odds stacked against them, Brighton must decide whether to cut her losses or take a leap of faith that this love affair is one in a million.