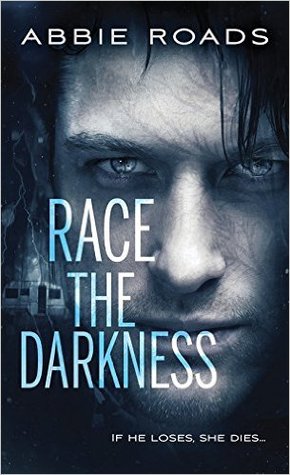 Race The Darkness by Abbie Roads: Isleen Walker and her grandmother have been kept captive and tortured for years. The only comfort Isleen has is from her dreams, dreams in which she sees a mystery man come to rescue her. She mentally begs him for help but doesn't believe he's real.
Xander Stone hears a woman begging for help, but he believes it's all in his mind. Ever since he was struck by lightening, he has been able to hear people's thoughts. Yet he doesn't believe this woman is real until one day he stumbles across the trailer where Isleen and her grandmother were being held.
Guilt choked in his throat–a lump too big to swallow, too awful to taste. She'd tried to tell him she was suffering and needed help. What had he done? Buried her words under a gallon of liquor and a barrel of self-pity.
Xander is a criminal investigator that uses his ability to get into the minds of suspects to interrogate them. Isleen sees murders in her dreams. Xander, having abilities of his own, doesn't hesitate to believe her visions. When she starts having visions of the people she loves being killed, the pair need to work together to figure out who's still after Isleen before it's too late.
I liked both Xander and Isleen. They were instantly willing to put their trust into one another, even when others doubted them. They also helped each other find peace; the only time it didn't hurt Xander to hear people's thoughts, and his touch was able to soothe Isleen. They were both scarred by life, both physically and emotionally, so they were able to really relate to one another.
This is a conversation they were having about their physical scars and why Xander found them beautiful.
"Because they're evidence of your strength, of your ability to survive. They are badges of courage. And you know–" He placed her hand on his shoulder where the lightening had entered him and the damage was the deepest. Again he felt that rush of electricity through the network of his scars. "–we match. Life has marked us both."
This is the author's debut novel but I wouldn't have guessed it. It's well-written and intriguing with a nice blend of romance and suspense. If you enjoy romantic suspense with a bit a paranormal abilities added in, Race the Darkness is a recommended read.
Book Info:

 October 4, 2016 | Sourcebooks Casablanca | Fatal Dreams #1
Cursed with a terrible gift…
Criminal investigator Xander Stone doesn't have to question you—he can hear your thoughts. Scarred by lightning, burdened with a power that gives him no peace, Xander struggles to maintain his sanity against the voice that haunts him day and night—the voice of a woman begging him to save her.
A gift that threatens to engulf them…
Isleen Walker has long since given up hope of escape from the nightmare of captivity and torture that is draining her life, her mind, and her soul. Except…there is the man in her feverish dreams, the strangely beautiful man who beckons her to freedom and wholeness. And when he comes, if he comes, it will take all their combined fury and faith to overcome a madman bent on fulfilling a deadly prophecy.