In Racing Hearts (Hamilton Stables #1) by Melissa West, after a serious race fall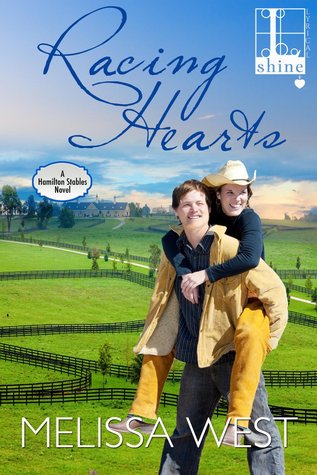 derails her career as a jockey, Emery Carlisle has finally decided it's time to get back in the saddle. Convincing Trip Hamilton – the best horse trainer in the area, if not the world – for help won't be easy, especially when they share an interesting past. But if anyone can assist her in achieving her dream, it's Trip, and there's no way she'll allow him to refuse her.
"I know what you're going to say, but please…one meeting. If you like what I have to say, I'll ride for free. Whatever you ask. And just so you know, I'm not against stooping to blackmail."
Having grown up in a household heavily involved in the horse-racing community, it takes a lot to impress me when it comes to books that incorporate the industry. But Ms. West delivered a very captivating tale that was fast-paced and quite frankly, one I wanted more of. Containing the second chances trope, a heroine's tenacity to achieve her dream and a hero resolved to help her.
"Christ Almighty." He sighed heavily and eyed his brothers. "Go, please, before they publish an article in the morning Tribune."
Alex smirked, then spread his hands out like he was showcasing a news headline. "Sexy jockey gets it on with the Hamilton brothers. Full story on pages six and nine."
The dialogue was well-written, and so effective that I could envision many of the scenes unfolding before my very eyes like a mini-movie. Especially the prologue, which made me feel as if a bystander watching the drama unfold on a race track. It was that vivid, and together with Trip and Emery's delightful banter plus easygoing flirtation had me smiling or laughing constantly. Emery goes through a lot. Her trials and tribulations made me want to cry for her, as they were caused by those she loves. While her triumphs had me cheering. She truly deserved those moments.
I absolutely loved both characters, and thought the author captured Emery perfectly. She was what I'd expect of a jockey capable of continuing their career after a race fall. Someone unwilling to let it affect her for the rest of her life, and being the talented rider that she was; there was no way she could allow such talent to go to waste any longer. She was fierce, brave and driven by her tenacity to ride again. While with Trip, he was ambitious, assertive, and not afraid to push Emery when needed. By challenging her, when it seemed she was letting her fear, of getting back on a horse to rule her. However, the main characters weren't the only ones that impressed me. Trip is really close with his brothers, Nick and Alex, and they bring out the best in each other. Then there's Emery's aunt, Annie-Jean. She's absolutely hilarious, and the scene where she introduces herself to Trip was priceless.
He laughed. "There's lots of comments, but I'll hold my tongue."
"I'd like to hold your—" She looked over at Emery innocently. "What?"
Emery drew a long breath. Was nine a.m. too early to start drinking? "I need to grab another box. Want to help me? " she asked, hoping to save him before Annie jumped over the table and straight into his arms.
Although there weren't as many sex scenes as I would have liked, that fact didn't bother me. The story was more than enough to keep me captivated, and once I learned about their past history, I could see why Trip was holding back. Even though he wanted her badly.Their past relationship could have gotten him into serious trouble, and he needed to explain to Emery why he left her in the past before their relationship went any further. Yet, the intimacy that did occur was extremely passionate, and had that sense of both of them finally coming home. Back to the person they were always supposed to be with, and nothing could keep them apart. Their chemistry was incredible, especially when their playful banter constantly continued to build the sexual tension between them.
Overall, Ms. West has certainly gained herself a new fan in this reader, and I can't wait for the next book in this series. This is definitely a story I will be reading again and again. I would recommend this to all, but especially to those that love a tale containing the second chance trope, lots of cute banter, and a heroine determined to achieve her dream no matter what she has to face to get it.
Book Info:

Publication: October 27th, 2015 | Lyrical Shine | Hamilton Stables #1
In the lush heart of Kentucky, the Hamiltons are racing royalty. To win takes heart and soul—and to love takes the wild spirit of the land itself…
The oldest of three headstrong brothers, Trip Hamilton is considered the best horse trainer in the world. He is focused on winning and nothing more, until a stubborn, sexy rider thunders back into his life, breaking his resolve—along with several of his rules—and taking his heart right out of the gate…
Emery Carlisle has a point to prove. She'll be the first woman to win the prestigious Kentucky Derby, if only Trip will agree to hire her so she can ride again. It's supposed to be strictly business, but as the race approaches, and their undeniable chemistry builds, Trip and Emery may be headed for the greatest win of all—as long as the losses of the past don't gain on them…