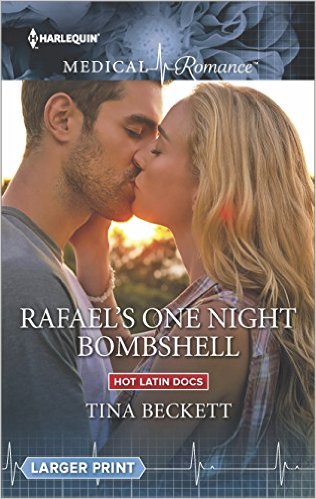 In Rafael's One Night Bombshell (Hot Latin Docs #3) by Tina Beckett, finding out her boyfriend is a liar and a cheat, Cassie Larrobee walks into a bar and does the most reckless thing she's ever done before. Propositioning the gorgeous Rafael Valentino isn't hard, especially when he's looking for someone to take away his own pain. However, their one-night stand leads to an unexpected pregnancy. Can Cassie convince Rafe that his past doesn't define him, so they can have a chance at happy ever after?
Rafe took another sip, regarding her with inscrutable eyes. "You don't look like a Bonnie."
"No?" She swallowed hard. "What do I look like?"
"Like a beautiful woman who just got out of a painful relationship."
I have all four books of this series; books that are all written by different authors, and for some reason I started reading them out of order, but I will admit that these books can each be read as a stand-alone. Right from the beginning, I felt sorry for the heroine. She has a lot to deal with first personally with her boyfriend cheating on her and then later professionally because she has to work closely with Rafe after not expecting to ever see him again. Will Cassie be able to handle working closely with Rafe as they work towards solving the epidemic crisis they're facing with babies? Will she be able to help Rafe overcome his past?
As for the dialogue, it was intense due to what happens that reminds the hero of the tragedy of his parents, the case they're working on together, and the main characters back stories, especially that of the hero. Losing his parents the way he and his brothers did has left him unable to let anyone besides his brothers' close for fear of losing them too. Can Cassie find a way to get Rafe to let down his walls and talk about what happened to his parents? Moreover, emotions run high throughout this book as well due to Cassie's pregnancy and the risks of the epidemic they're working on maybe having an effect on their children. However, in saying that, the dialogue wasn't all intense. There were some light-hearted moments between the main characters as well as Cassie and her best friend that had me smiling or laughing. Cassie's best friend is a real hoot and vivacious; a woman who has a cracked sense of humor.
This couple's growing relationship certainly sets the fast-pace of this story, and had me flipping the pages quickly, determined to discover whether either would let down their walls when it comes to relationships. Especially since neither is interested in being in one, because Cassie realizes Rafe has the ability to hurt her more than her ex did while the hero has his own reasons concerning the people he's lost already and he's afraid to lose anyone else. Cassie is hard-working, smart and Rafe is good for her because he's the one person that's been capable of getting her to do something impulsive.
While the hero, he's adventurous, hard-working, and really grows throughout this story because for the first time in a long time, Cassie has made him question his stance on relationships. The way he copes with his parents death each year had me feeling sorry for him, because it was an easier way to cope than facing the choices he had to make, but at the same time, he needed to break the habit to be able to heal. Luckily, Cassie helps him to do just that.
"Food — any kind of food – sounds wonderful, but it's really late. Are you sure you want company?" If he thought she was exhausted, then he must be equally so, if he'd put in as many hours today as she suspected he had.
"It'll keep me from falling face-first onto my computer keyboard."
Cassie grinned. "No one has ever invited me to dinner for that reason. Should I be flattered or insulted?"
"Definitely flattered."
Overall, this was a really good book where the strong romance does justice to this couple's wonderful chemistry. Moreover, I'm really looking forward to reading the rest of this series because the Valentino brothers are HOT. The way this story ended brought tears to my eyes because Rafe finally unloading his burden to Cassie helps him to heal and gives them the chance at happy ever after they both deserve. Then there's the epilogue that wrapped this story up nicely with Cassie determined to entice her husband in satisfying her cravings. Can she make him see reason? I would recommend Rafael's One Night Bombshell by Tina Beckett, if you enjoy the surprise pregnancy trope or a hero and heroine that need each other to heal from the hurts of their past, so they can have the chance at love and happiness they both deserve.
Book Info:

Febraury 7th, 2017 | HQN Medicals | Hot Latin Docs #3
From passion to pregnancy!
An encounter with Rafael Valentino is brokenhearted Cassandra Larrobee's chance to live in the moment. It was supposed to be one night only, but the sinfully hot doc has left her with more than just memories…
Since a heartbreaking decision years ago, Rafe has been determined to remain alone—but when he's sent to work with Cassie he can't resist their reckless kisses! When he discovers Cassie's shocking surprise, can Rafe let her bring light into his shadowed life…and become a daddy to their baby?