Red Hot by Lisa Childs: Fire, anger, passion it's all red hot and mixed into one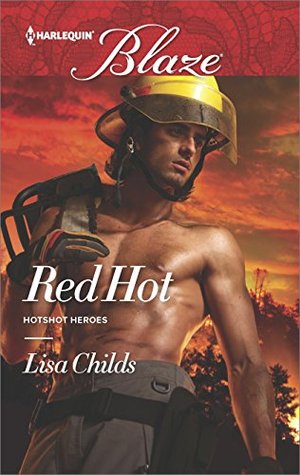 serious mess when Fiona and Wyatt manage to get tangled together.
Fiona O'Brien spent most of her youth in situations that were not within her control. She couldn't do that any more. She needed to be able to control her world, perhaps a little too much when it came to her brother and her mother. All she knew though was when her brother came to tell her he quit school to join a dangerous firefighting team she had to confront the one man who had started it and who could stop it.
Wyatt Andrews knew loneliness and he knew "freedom" he also knew he was a leader with people looking up to him. When his mentee's older sister comes looking for him though he gets put in a really hard place and he is forced to realize some of his own issues may be played out as well.
Fiona and Wyatt are on fire together. The chemistry is there sexually and emotionally, the problems come in when the fire burns a little too hot. Will it be a controlled burn? Or will it burn out?
Ms. Childs has started what I'm hoping is going to be an amazing series about Hot Shot firemen and their desire to do good while having "normal" lives on the outside. This particular story is steamy and "red hot" while giving the reader a great look into the characters and perfectly setting up more of the series. The descriptions of everything other than the location are amazing and the depth she is able to get into for the length of the story is perfect. This is a perfect read to warm up your winter nights.
Book Info:

Publication: January 1st 2016 | Harlequin Blaze | Hotshot Heroes
He'll risk his life…just not his heart
Fiona O'Brien knows how to minimize risk…by never, ever falling for a guy in a hazardous job. And when her brother applies to become an elite Forest Service firefighter, Fiona hits the roof. She'll do anything to keep him safe—even if it means using every sexy tool in her arsenal to seduce the one firefighter who can change her brother's mind.
Hotshot Wyatt Andrews swore to avoid controlling women like Fiona. And he has no intention of intervening in her family business. Still, he can't resist the fiery redhead with the deadly curves. Soon they're engulfed in a blaze of lust that incinerates their self-control. They're playing each other, but if they're not careful they may both get burned.