Red-Hot Texas Nights by Kimberly Raye is book two in the Rebel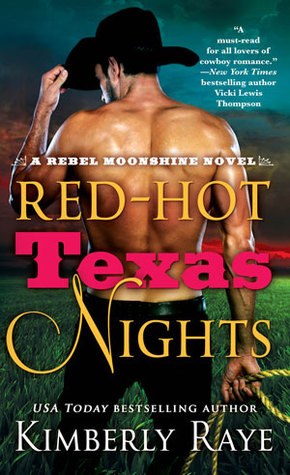 Moonshine Series but can be read as a standalone. I've also read the first book in this series and it's just as enjoyable as this one. The characters learn a lot about each other and themselves while falling in love which provided for an enjoyable story.
Brandy Tucker needs to keep up with the competition that just moved to town and to do that she needs money to buy a new oven for her bakery and the only way to get that money is to replicate the famous moonshine recipe her granddaddy used to make. The recipe that's been lost and is the reason for the famous Tucker/Sawyer feud.
Brandy is very tough on herself. She had this reputation in high school of being a bad girl but the rumors were full of lies. The only time she can really cut loose and be herself is with Tyler.
"She embodied every wild thing ever written about her on the bathroom wall and then some. A bad girl in every sense of the word, and he'd been the lucky man to touch her first."
Being with Tyler is a way for her to channel her inner bad girl but once it's over, she goes back to pretending that it never happened. She refuses to lose herself to a man and keeps enough distance to make sure that never happens.
Tyler's life isn't easy. He's always wanted out of Rebel, Texas and bull riding gives him that wish. When he comes back to town because his brother is missing, the reasons why he left in the first place are still weighing him down and the memories seem to be closing in on him until Brandy proves to be a distraction he didn't know he needed.
Brandy and Tyler are explosive together. Their chemistry is off the charts and their passion for one another is clearly pouring from the pages. If you like old family feuds, moonshine, or seeing two characters who are perfect for each, rise up against their own struggles to get their happy ending, Red-Hot Texas Nights is a good choice.
Book Info:

Publication: March 1st 2016 | St. Martin's Paperbacks | Rebel Moonshine #2
LOVE IS ALWAYS INTOXICATING
When it comes to feuds, the Tuckers and the Sawyers do it Texas-style! The legendary moonshiners have been doing battle for more than a century, and they're nowhere near ready to call a truce. Especially when Brandy Tucker, a self-taught chef, mixes up a brew that rivals the original-only to find the recipe's gone missing. And the culprit seems to be Tyler McCall, a professional bullrider as hot as the Lone Star sun, despite the Sawyer blood running through his veins.
IN THE LONE-STAR STATE
Brandy is a sweet, sassy distraction Tyler doesn't need-especially not when he's preparing for a a competition that will either make or break his career. The more Brandy and Tyler cross paths with one another, the less they can ignore the heat that sizzles between them. Should they give in to their fiery passions-even if they both risk getting burned? All it takes is one kiss to find out…