Red Light, Green Light (Are You Game #3) by Rhian Cahill, is a meaningful and sexy romance. Kelsey Newman and Weston Mann fell madly in love during high school and spent one mind-blowing night losing themselves in each other. Unfortunately, their lack of maturity and West's actions at the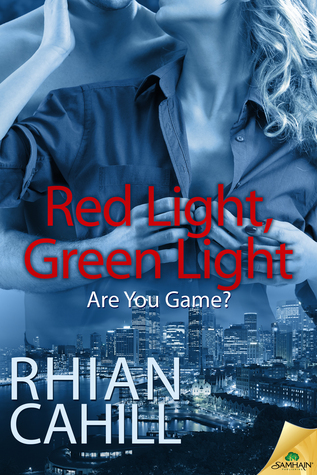 time prevented them from pursuing a future together. However, they never stopped loving each other even though they moved on separately. In fact, their circle of friends from high school remain close to this day, so they still see each other quite often. West even attended Kelsey's marriage to Bryan, a mutual good friend, but they later divorced due to lack of love and passion. Now that Kelsey is free, West is determined to do whatever is necessary to make her his once again, permanently.
Kelsey is a warm and loving human being and she is known for putting the needs of others ahead of her own. Since becoming a single woman for a second time, she and West have flirted and even slept together, but time after time she has stopped things from progressing into something more serious. Kels is afraid to be hurt by West again, and as a result, she is sending him mixed messages. West is a good guy and truly wants to make-up for his past mistakes. However, there is only so much wish-washiness he can take.
Ms. Cahill packs a lot of punch into a book that is less than 130 pages, however, I found the story to be a little bland. The characters are realistic, well-defined and full of spirit. The sexual chemistry between Kelsey and Weston is swoon-worthy, in addition to being very passionate. The secondary characters are very interesting and I look forward to learning more about them in future books from this series. It looks like Zac, West's best friend and Freddie, West's sister, may be the next couple in the hot seat.
I must mention that I love the cover of this book and the covers from the first two books in the series. All three are beautifully presented, with great contrasting colors.
Book Info:

Publication: November 11th 2014 by Samhain Publishing | (Are You Game #3)
Truer words have never been spoken when it comes to Kelsey Newman's first love. Years spent ignoring the ache she feels for Weston Mann has done little to erase him from her mind and her heart.
The one that got away.
Ten years ago, West loved Kelsey enough to let her go when he realized he wasn't ready for the kind of relationship she needed. Watching her walk down the aisle with another man cut deep. But West is a quick learner, and he never makes the same mistake twice. Now that she's free, he plans to make up for lost time.
A love that won't stop.
Kelsey isn't ready to give West a green light, and he refuses to accept the red ones she's given him. With each stop and start of their seesawing relationship, she finds herself falling for him all over again. Except it's hard to trust her heart to a man who once told her he didn't want it.
Warning: Story contains a reluctant heroine, a determined hero, an ex who doesn't want to stay exed, and a love that knows no limit—speed or otherwise.