In Reforming the Playboy by Karin Baine, Former pro hockey player Hunter Torrance was once a rising star for the Demons. Until his life imploded. Now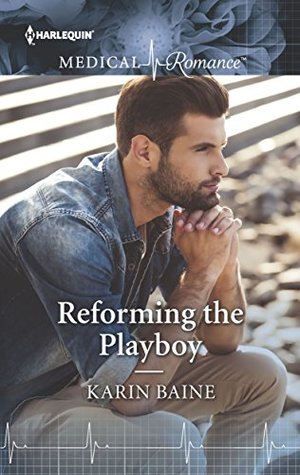 almost a decade later, he's in a much better place mentally and emotionally and ready to be part of the team again–this time as the Demons' physiotherapist. But first he'll have to prove to the skeptical team doctor, Charlotte Michaels, that he's there to work, having let go of his partying ways for good. Especially since finding out recently that he's a father to eight year old Alfie. Hunter will do everything in his power to provide a stable, loving home for his son, unlike the tumultuous childhood he had.
"I have many regrets, Charlotte, but kissing you will never be one of them."
Charlotte's dream of becoming a doctor for the Demons has finally come true this year and she's out to make it their best season yet. But wouldn't you just know that the man she crushed on as a silly teenager is now going to be her working partner. And Charlotte's not sure how that will turn out. Because after watching Hunter's career go down in flames, shattering her young heart in the process, she doesn't know if he's really in Northern Ireland to work or resume his chaotic lifestyle. But Charlotte can't deny their attraction from day one. Although finding out that Hunter is a new dad puts a different spin on the casual fling she was hoping they could have. Not wanting to mess up Alfie's childhood like hers was, she'll have to be careful not to get too deeply involved.
'They were meant to be together, to be a family, if only they could face their fears instead of being overwhelmed by them.'
Reforming the Playboy was a sweet gem of a romance. Set in Ireland with a group of rowdy hockey hunks and a sassy female doctor to keep them in line, this was a quick read I didn't want to put down.
"I get it. You're the sheriff in this here town and I'm merely your deputy." He tipped his imaginary Stetson and she conceded a small smile.
"And don't you forget it."
I really had a great time reading Karin Baine's work for the first time here. She had a nice way of setting up the scenes between characters and the dialogue was a lot of fun. Especially since our hero and heroine started off on the wrong foot. So you can imagine there was a bit of, ahem, bantering going on before Hunter and Charlotte got to know each other better. But I loved that Baine introduced their chemistry immediately and let that tension build for a while until it couldn't be ignored.
Hunter was the type of hero I truly enjoy reading about, given that he was trying to make up for the bad decisions he'd made in the past and prove himself in his new career. And seeing his joy over Alfie, his newfound son? *Swoon* Hunter was an attentive dad who wanted to protect his little boy at all costs. Charlotte also fell into that protective role over Alfie quite easily which scared her and caused her to push him and Hunter away for a while. I liked that she was strong and didn't want to do any emotional harm to the new father and son duo, but I'll admit she did frustrate me a wee bit with her lack of being forthright with Hunter about her honest emotions.
Who doesn't love a good redemption story, right? Particularly one in which both main characters overcome tough childhoods and forge a lasting bond between them. Filled with passion, this was one medical romance that smoldered on the pages.

Book Info:

Publication:  June 20th 2017 | Harlequin Medical Romances |
From playboy…to father and husband?
Hunter Torrance, former Demons hockey star, is back—now as the team physiotherapist. And while team doctor Charlotte Michaels doesn't believe he's changed his playboy ways, the attraction between them is undeniable!
Hunter has worked hard at becoming a father to little Alfie, his newly found son. With Charlotte's help, he knows he can be—though she guards her heart as fiercely as he does his. He's sure they could be a family—if only they can take the risk!