Regency Christmas Gifts by Carla Kelly is a collection of three short–but absolutely lovely–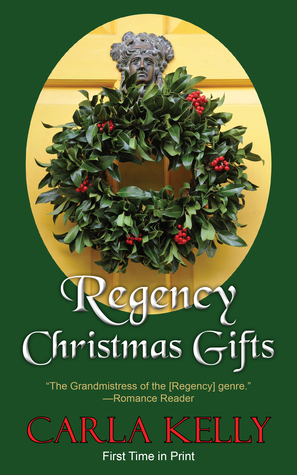 Regency holiday stories. As a veteran writer, Carla Kelly obviously knows how to give us readers a stellar historical romance. What she has also done with this book, was capture the true meaning of the Season and wove that directly into each heartfelt story. The result was nothing short of wonderful.
The Lasting Gift was the first story, the longest of the three, and also my favorite. Basically, Thomas Jenkins was a retired sailing master who was still itching to go back out to sea. Even moving his sister into his home didn't provide enough reason to stay on land. But meeting impoverished widow Mary Ann Poole and her daughter Beth changed his life. Thomas was captivated by their tenacity and found himself wanting to build a life with them so he could cherish and take care of their every need.
'He wanted to snatch Mary Ann and Beth Poole away from Haven and the hand that had been dealt them, just grab them up, hold them close and promise them something much better, even though he had no idea what it was or how he could achieve it.'
I was absolutely taken with Thomas, Mary Ann and Beth. There was such a tenderness in how Thomas treated them both that it made me get all misty-eyed. Mother and daughter were very strong and smart but had been dealt some terrible obstacles to overcome. To see someone finally in their corner by lending a helping hand was so satisfying. I loved the moments when Thomas got to see the holiday traditions that Mary Ann and Beth had created, seeing how thoughtful they were with each other, even if it wasn't the grand presents or meals that others would enjoy. The simple act of finding or making something out of love, not spending large amounts of money, was a nice way they showed each other how much they cared. *sigh*
Faithfully Yours was the shortest of the collection but was just as sweet as the rest. Margaret had promised to correspond with John when he went in search of work in America, but she then decided she couldn't be bothered with someone below her class. Margaret convinced her friend Sally to pose as her and write to John instead. Sally dutifully did just that and enjoyed reading about the wild adventures he tells her over the years. But when she finds out John is making his way back to Scotland, Sally worries he'll find out the truth and be angry that she was deceitful.
"I've always thought it was you," he began, then corrected himself. "At least, I hoped it was."
I liked following John in this story as he wandered around in his hometown of Dumfries, Scotland, and was comparing growing up poor to what his life has now become, having been successful in America. He didn't forget how it had felt to be hungry and dirty so it was nice to see him acknowledge what he had to do in order to survive, but still remain humble as an adult. And Sally was just a gem. She lived vicariously through John's adventures and had grown to care deeply for him. I loved the ending to this story: it was cute and wrapped the whole thing up in the best of ways.
Lucy's Bang-Up Christmas was the final offering here, but it packed quite an emotional punch. In an effort to keep the Christmas spirit and her mother's memory alive, Lucinda decided to enlist help from her cousin Miles in helping out an unfortunate family. What was first a way to be free of the stress over her sister Clotilde's upcoming wedding becomes a lesson in the joy that giving back to those in need brings to one's soul. Along the way, Lucy and Miles find that not only do they make a great team, but that they have also fallen for each other romantically.
'She had made a difference in four lives, each life as God-given and important as hers, no matter their difference in station and class. This was charity of the best kind, the charity that mattered.'
To me, this was the one that spoke the most about the 'reason for the Season'. There was something so touching about Lucy's wish to carry on her mother's good deeds. It was a way to honor that while learning more about herself and what she was capable of. The romance between Lucy and Miles was a lot of fun and of course extremely sweet. I thought Carla Kelly did a nice job of balancing the romance with the Christmas theme so neither one was too overwhelming. What a great way to finish off the collection.
If you're anything like me and love to get swept away by realistic romance filled with history and intriguing characters, then this one is for you! Regency Christmas Gifts was an absolute joy and will be sure to keep the spirit of the Season alive and well in its readers.
Book Info:

Publication: Published November 1st 2015 | by Camel Press |
In the first of these stories set in early 19th-century England, The Lasting Gift, an impoverished war widow returns a misdelivered parcel and attracts the interest of a well-to-do retired sailing master and his sister. In Faithfully Yours, a self-made man returns to Scotland to marry the woman he has corresponded with ever since he left as a boy, little knowing the letters were written by another. In Lucy's Bang-Up Christmas, a man visits the estate of his relatives to comfort his lovely second cousin, who is unhappy that Christmas has been usurped by her sister's nuptials.