Rescuing Rose (Redemption #2) by Nicola Marsh is the second book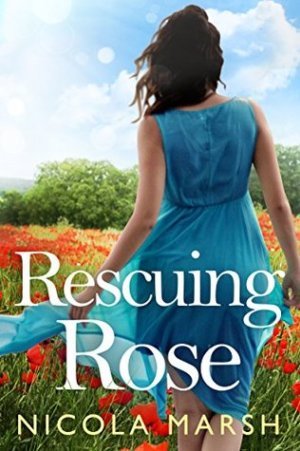 in the Redemption series. It is a book about forgiveness, a book about family, and honesty, and finding love, having faith, and learning to trust. Although we meet the same characters as were in the first book, and we learn more about Rose in this book, this book can be read as a stand alone book without losing the reader. This is the story of Rose and Caden
Rose Mathieson grew up without a mother, and raised by a mean, alcoholic father. She and her older brother only found love and comfort with their Aunt. Now Rose is the mother of 6 year old Olly, and after a bout with too much alcohol, and forgetting to pick Olly up from school, Rose checks herself into a rehab facility to insure that she does not become her father. After facing her demons, she and Olly are ready to start a new life in Redemption with her brother and her aunt. She does not need complications right now, but she cannot deny the attraction she feels for her old friend and new neighbor, Caden Shoreham.
Caden remembers Rose from the days when she would visit her aunt. They were friends, he would do things to help make her smile, make her laugh and make her forget her life for a little while. After witnessing her father in action, Rose distanced herself from Caden, because of fear, because she did not want his pity. Since then, Caden has been ruled by his mother. Bullied into running for mayor after his girlfriend died of an overdose. But Caden cannot deny the attraction between himself and Rose. He wants to see where it will lead, if only he can get his meddling mother to back off.
What I really loved about Caden and Rose is that they really did care for each other. Each willing to sacrifice their own happiness to make sure that the other reached their dreams. Rose was open and honest with Caden about her past, her time in rehab. Caden had trouble opening up to Rose about his past and a girlfriend who had a secret addiction. I loved how Caden showed Rose with grand gestures that he was willing to do whatever it took to be by her side, supporting and loving her no matter the cost.
I also loved Olly. He does what 6 year olds do, ask too many questions, add light to the story and make you fall in love with them. The HEA for this family of 3 is wonderful and heartfelt and I cannot wait to see if the cousin gets the next book. Amazing storytelling that will draw the reader in and keep them hooked, invested in the ups and downs, the struggles and strengths of these amazing characters.
Book Info:

Publication: Published October 4th 2016 | Lake Union Publishing | Redemption #2
Rose Mathieson knows the only way is up. It has to be. She's made some mistakes in her life, but almost losing her son is a wake-up call. More than that: it's a call to action. It's time to start again.
The town of Redemption, Connecticut, seems to offer exactly what she craves: a quiet, stable life for her and her six-year-old son, Olly. But Redemption has changed since she last saw it—or perhaps it's just Rose who has changed. Her reputation precedes her now, and not everyone is happy to see her back.
Caden Shoreham is, though. Rose's childhood neighbor, a preacher's son, and now the pillar of the community, he's embarking on an ambitious new path of his own. He had always hoped they might end up more than friends, but Rose Mathieson isn't quite what his parents and friends had in mind for him.
Everyone deserves a chance—but has Rose used all her chances up?