In Resisting her Commander Hero (Rebels of Port St Johns #2) by Lucy Ryder,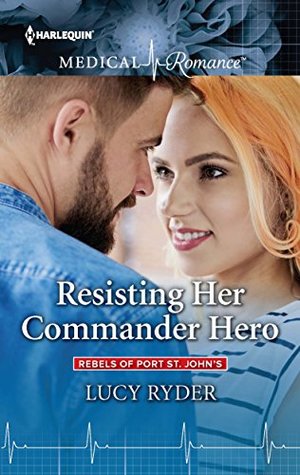 Frankie Bryce once had a crush on her late brother's best friend, but now she's over it. She's no longer the wild and reckless teenager she once was and is determined to make better choices. However, it's not so easy to ignore ex-SEAL Nate Oliver, especially when he's determined to look out for her like he promised her brother. Will Frankie and Nate finally realize how much they care for each other, or will they let their chance at happy ever after slip away?
"I don't know what your problem is," she half snarled, lurching herself upright in her seat as though preparing for a fight. "It's not like I was the one without a safety line. You were," she pointed out shortly. "I'm not the one who thinks she's a big, bad indestructible SEAL too cool to die."
"What's that supposed to mean? Of course I'm not indestructible. What gave you that idea?"
"Oh, I don't know," she tossed over her shoulder as she reached again the door handle and shoved the door open. "Maybe this insatiable need you have to be a damn hero."
With the first book of this series being such an incredible read, I couldn't wait to dive in and see what Ms. Ryder would put the main characters in this book through, and I've got to say that I was just as impressed with this book as I was with the first of the series. Really, not only because this story encompasses the brother's best friend trope, a trope I absolutely love; but because these two have so much chemistry that drives the story and had me wondering how long it would take Nate to figure out how in love with Frankie he was. Will he realize his feelings before it's too late?
As for the dialogue, it was intense due to the main characters back stories, because Frankie had a huge crush on Nate when they were younger, yet she's pretty sure she's over it, even though Nate is hard to resist. However, in saying that, she's determined to try because she doesn't need a hero. Moreover, the heroine is resilient and I loved what she did for Nate in the beginning, even if he doesn't seem to appreciative her efforts. Is she really still the wild and reckless person she was in her teens? I also liked how the heroine provided such a challenge for the hero because she's an independent woman that doesn't need him hanging around just because he made a promise to her late brother. Really, what she needs is a friend.
While the hero, Frankie and her family were good to him growing up and he would do anything for the man that felt like a brother to him. Certainly, Nate is honorable, protective and I liked his determination to be there for Frankie, even though he thinks she's still as wild and reckless now as she was in her teens. Will she prove him wrong? I also liked the close bond the hero shares with his sister who is going through a rough time and I liked how his sister isn't afraid to give him much needed advice when it comes to his love life.
"Drop me and you're dead meat."
His answer was an exasperated snort. "Please. I've carried twice your weight up a mountain pass that was more of a goat trail in a snowstorm." He briefly dropped his gaze. "But keep squirming like that and there's no telling what might happen."
Overall, Ms. Rice has delivered another amazing read for this series where the main characters have wonderful chemistry, which increases with every interaction between them; the romance was heady, convincing and definitely shows how good these two are together; the secondary characters added that special extra something to this story when they interact with the main characters, especially Ty and Paige; and the ending had me worried for one of the main characters, but left me completely happy with how things worked out for this couple, as Nate realizes there's no-one more important to him than Frankie, which is proven by his words and actions towards the end. Really, Frankie is a lucky woman. I would recommend Resisting her Commander Hero by Lucy Ryder, if you enjoy the brother's best friend trope, the friends to lovers trope, or books by authors Tina Beckett, Susan Carlisle, Becky Wicks and Emily Forbes.
Book Info:

Publication: March 1st, 2018 | Harlequin Medical | Rebels of Port St Johns #2
Frankie doesn't need a hero…
But can she fight her attraction to Nate?
Paramedic Frankie Bryce is finally over her crush on her late brother's best friend, former navy SEAL Nate Oliver—but he returns to their hometown acting as if she's still the wild child teenager he has to protect (he promised her brother he would!). Frankie's all woman now, and definitely doesn't need rescuing! Trouble is, this super-sexy hero is impossible to ignore…