In Resisting the Hero by Cindi Madsen, Faith Fitzpatrick doesn't want a hero. She knows the pain that being close to them can bring, so when her brother calls her to invite her to his graduation from SWAT, she cannot be more hurt. She could barely accept that he was a cop, a hero, but now it was worst he would be the first line of defense in the most dangerous situations. She has not gotten over the death of their father and how he died being a hero so this does not help at all.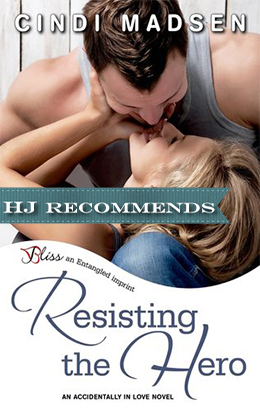 When she walks into the bar where everyone is celebrating she could not be less enthusiastic than she already is. She just wants to see her brother and try to talk some sense into him. But Faith runs into a very handsome man, who also happens to be her brother's best friend, police partner and the one who talked him into the SWAT team. She immediately likes him and is attracted to him, but the fact that he is a cop/hero is enough for her to want to stay as far away from him as possible.
Connor Maguire knows that he is in trouble when his best friend's sister moves to town. Faith is just what he likes, feisty, funny, hot as heck, and she talks trash like nobody's business, something that he cannot resist. But the fact that she is his best friend and partner Kaleb's sister, therefore off limits.
When Faith and Connor start working together on the Fall Festival, since her sister-in-law and Kaleb's wife has been put on bed rest by her doctor, they become closer than either of them would have liked. There is a lot of chemistry between them, but Faith believes that heroes are not a safe bet. The more time they spend together the more they are unable to resist the pull, until they will no longer be able to keep hiding from what they want.
Only Faith is used to running when things get beyond her control and this time will not be any different and unless she is willing to stay and fight for what her heart wants she will lose her only chance at true happiness. But the true challenge will be when her brother Kaleb and Connor are put in the line of fire and she will have to decide if it's more painful to be close to him and be happy while enduring the constant worry or the pain of not having him in her life at all.
I absolutely love this series, it is fun, sweet and entertaining. All the books have a little of the forbidden but oh so fun to them that will keep you hooked from beginning to end, and Resisting the Hero is no different. So make sure that you read them all for the fun and hot scenes will keep you entertained until the very last page.
Book Info:

January 13th 2014 by Entangled: Bliss
Faith Fitzpatrick isn't looking for a hero. Burned one too many times in the past, she's now sworn them off completely. And when her brother's best friend, Connor, convinces him to join the dangerous SWAT team, Faith has never been more anti-hero. What's wrong with having a safe job? There's nothing safe about Connor. Confident, sexy, and sporting a six-pack that should be illegal, he's everything she doesn't want.
When his best friend's sister moves to town, local cop Connor Maguire knows he's in trouble. Faith is feisty, funny, and talks trash like nobody's business. She's also his partner's sister—and so totally off limits. Working on the Fall Festival together, they agree to a truce and become friends. But the more time Connor spends with Faith, the more he's willing to risk the wrath of her brother. If he could only convince her to take a risk on him, too.