Return of Her Italian Duke by Rebecca Winters: Circumstances can make anything harsher than you intend, especially when you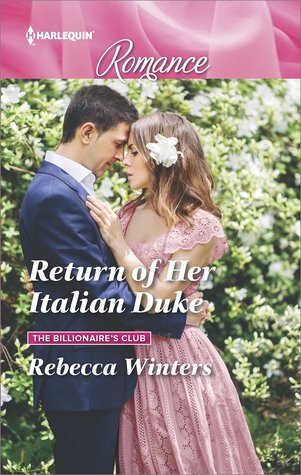 don't intend to hurt anyone.
Gemma Bonucci Rizzo didn't understand. Why had her love disappeared into the night? Why hadn't he sent word or tried to contact her? For ten long years she tried to understand. When she was finally given the opportunity to go back to where it all began she took it as a sign. Maybe she would get her answers now.
Vincenzo Nistri Gagliardi knew he had to leave, he had to do it quickly, quietly and without letting anyone else know. His only regret was leaving her, not being able to tell her, but it was for her own safety. She would be okay if he did it this way, she would understand, she would have to.
When Gemma and Vincenzo finally reunite it's nothing like anyone anticipated. There are a lot of hurts to heal and hearts to mend before they can decide if they can ever be anything anymore.
This is a sweet romance from Ms. Winters with the possibility of a lot more as there are some serious side stories just waiting to be written. The plot can drag a little bit, but this is a seriously sweet G rated romance that is good for a cup of cocoa and a fire. The characters are flawed but lovable and the location just can't be beat.
Book Info:

Publication: Expected publication: March 7th 2017 | Harlequin Romance | The Billionaire's Club #1
The duke she's never forgotten…
When Gemma Rizzo applied to become pastry chef at the gorgeous Italian castello where she grew up, she never expected to get the job. But neither did she expect to find that her new boss was silver-eyed billionaire Vincenzo Gagliardi–the man who left her brokenhearted!
Her first instinct is to run, but when Vincenzo finally reveals the devastating truth of what caused him to flee eleven years before, Gemma must decide if she can trust the haunted man she never stopped loving…