Reunited at the Altar by Kate Hardy: Ex's at a wedding? Maid of Honor and stand in for the Bride's father?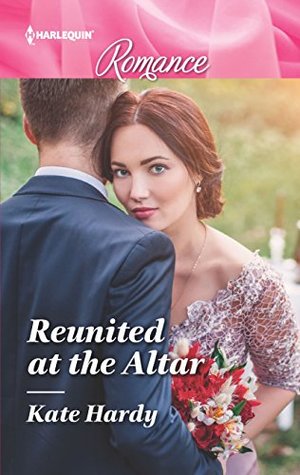 Nothing can go wrong…. Surely, right?
Abigail, Abby, Scott had enough heart ache in her life. At 16 she thought she feel in love with her one and only. At 18 they eloped and then 4 years later they were through. Well that is until 5 years after that he is back and they are in her best friends wedding together and it turns out she is still a sucker for him.
Bradley, Brad, Powell knew he was a lout. After all he let his wife go after she was only trying to help him. Then again he eloped with her for some "interesting" reasons, oh he loved her, that is true but not everything was as crystal as it seemed. Now all these years later it seems nothing is crystal any more.
A wedding is a magical time. Can it reunite Abby and Brad without major fireworks? Or will this reunion last longer than the wedding?
This is a hard read from Ms. Hardy. It was well written, but fairly monotonous. Both Abby and Brad were given details, but there was nothing really there to help endear them to the reader. Their situation though complicated was laid out incredibly well and not confusing or even really that problematical. There were no major twists until the end and when that happened so did time travel. This wasn't a bad book, but unfortunately it didn't have much to recommend it either.
Book Info:

Publication: Published July 1st 2018 | Harlequin Romance |
They were teenage sweethearts…
Can they say "I do" a second time?
Abigail last saw her ex-husband, Brad, six years ago, but now that they're reunited at his sister's wedding, their chemistry makes her feel like a love-struck teenager again! Neither has forgotten the tragedy that tore them apart, but as Brad walks his sister down the aisle, all the romance in the air makes Abby wonder, could she and Brad find themselves at the altar…again?