Reunited by a Baby Bombshell by Barbara Hannay: Was it a mistake? Was it what was needed? Almost twenty years late and who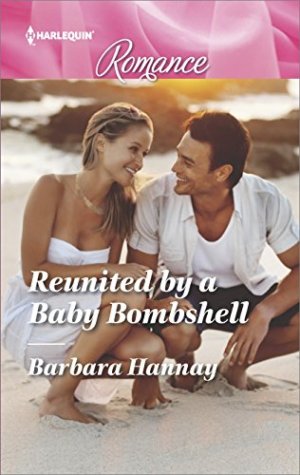 knows.
Eva Hennessey had had too much time to think. Had she accomplished her goals? Yes, well maybe anyway. There was still one thing that she always thought about, one thing that she always wondered and even now she had no idea if her decision was right or not. However it was time to face up to her choice and to finally come clean.
Griffin Fletcher had never really gotten over his broken heart from so long ago. He had had women since then, but never had anyone stick around for too long. He enjoyed playing the field, seeing what was out there, or at least that was what he was telling himself. Now though it was time to go home. To hang out with those from a different time in his life.
Best laid plans and all of that… now Eva and Griffin were back in town together and neither knew how to handle it, especially when an even bigger bombshell hits. When dealing with the aftermath will it bring them closer? Or will this be the final straw?
Ms. Hannay gives her readers an interesting story. To this reader this story is more a cross of women's lit and romance, which is not a bad thing. It's a very well written story that shows a woman going through some very emotional problems and coming out the other side. Her insight is very well written and true to nature. This isn't hot and heavy, but all the same a well written story that is sure to bring a smile to all who read.

Book Info:

Publication:  April 1st 2017 | Harlequin Romance |
A secret he never knew about
Prima ballerina Eva Hennessey has made her life in Paris–far away from her childhood sweetheart, Griffin Fletcher. But when an invitation arrives for her school reunion, she nervously accepts!
Griff never imagined he would see Eva again, and now he wants some answers. She may be more beautiful than he remembers, but she also masks a pain only he can see. It's a secret she's kept far too long. And when she finally tells him, their worlds change forever…