In Reunited by their Pregnancy Surprise by Louisa Heaton, Sam and Emily Saint love each other so much, but lately their marriage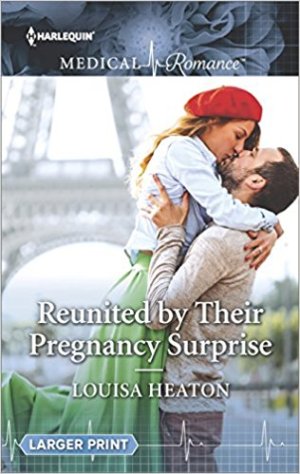 seems to be hanging by a thread. Emily thought about leaving, but when she and Sam are in a car accident and he's temporarily robbed of his memories from the past two years, Emily sees the moment as their second chance. Telling Sam she's pregnant is important, and once she does he seems happy, but when he starts to regain his memories, will she lose the man she loves?
"We have to believe that things will get better."
"Speaks the eternal optimist."
Pulling deep within herself, she leaned over his desk and made him look her in the eyes. "You're a fighter, Sam. We would never have got the Monterey started if it hadn't been for your vision. You've got to believe that all those memories in there…the ones that make you you…they're still in there. They're not lost. Not really. You just don't have access yet."
"Like membership to an exclusive club."
This story was a captivating read filled with plenty of emotion that could be felt along with the characters — encompassing the second chance romance and surprise pregnancy tropes — that entertained me from start to finish due to what the hero and heroine go through. Sam losing his memory is hard for him, and I could understand why Emily would prefer if he didn't get those memories back, because things had gotten so bad between them that she contemplated leaving him. Would she have done it, if Sam hadn't lost his memory? Will she lose him if he does get his memory back?
As for the dialogue, it flowed really well and drew me in due to the main characters back stories, especially that of the hero. Why does what happened to his sister make him so against having children? How did he allow things to get so bad between he and his wife? However, in saying that, I liked how they worked through their problems and the heroine began to help Sam try and hopefully get his memories back by revisiting things in their past that might jog his memory. Certainly, the heroine was resilient, brave and I liked how determined she was to help her husband. Although, at the same time, it made me feel sorry for her, as she can remember their past unlike Sam, and is aware of how bad things were between them. Why would she want him to be able to remember when knowing how bad things were between them could tear them apart?
While Sam, I could sympathize with him because he has so much guilt over what happened to his sister, even though what happened to her was something he couldn't have saved her from. Then there's his fear of failing to be the kind of father he wishes to be. How can he possibly be a good father when his own father never set a good example? Yet, what I liked most about the hero and heroine was how well they worked together both professionally and personally. They have such strong chemistry, which illustrates just how right they are for each other and prove that they shouldn't let anything keep them apart. Not their fears and certainly not their pasts.
Overall, this was a really good book with an ending that brought tears to my eyes, as Sam finally finds it within himself to let go of his past and embrace his second chance with Emily. The last chapter and epilogue wrapped this story up nicely and I loved Sam's words to Emily. How could he possibly think she wouldn't give him another chance? I would recommend Reunited by their Pregnancy Surprise by Louisa Heaton, if you enjoy the second chance romance trope or the surprise pregnancy trope.

Book Info:

Publication: March 21st, 2017 | Harlequin Medical |
Reclaiming his wife…and his baby!
Obstetrician Sam Saint wakes in hospital after an accident to find he doesn't remember the past eighteen months. The beautiful woman by his bedside is in fact his wife…and she's pregnant!
Midwife Emily never thought her husband would want the child she longs for. But now that she's expecting his baby, she's determined to fight for their marriage. And as they rediscover each other, Emily and Sam find themselves making new memories—ones they'll both treasure forever!